Colours of the Representative Rainbow of Freedom: Özgür League, Karşı League and LGBT+ Teams in Industrial Football
Keywords:
Gender, LGBT teams, Industrial football, Özgür league, Karşı league
Abstract
It isn't possible to speak of the marginalisation of only women in the field of sport, which is one of the fields in which gender discrimination and masculinity are extremely common. LGBT+ individuals, taking place in the sport community and seeking visibility are also exposed to various kinds of exclusion, marginalisation, humiliation, disregard and even much more traumatising behaviours. The purpose of this study, analysing the foundation processes of LGBT+ football teams in Turkey, is to focus on where such a need arose, starting from this point, to draw attention to the challenges that the teams experienced in the foundation phase and their formation of social existence processes. In the study, interviews were made with the founders of the four football teams and their footballers through utilising an interview form prepared in line with the qualitative research techniques. In accordance with the interviews made, the foundation processes of LGBT+ teams and leagues were found out and various findings related to LGBT+ teams, including internal and external dynamics, were obtained. Findings related to the internal dynamics include mission, admission of members, visibility, sustainability, branch selection, social responsibilities, and internal factors. Findings related to the external dynamics include moral support, financial support, environmental conditions, living space, and media. Introducing the challenges experienced by LGBT+ individuals who aren't welcomed especially in religious terms in a country with a predominantly lots of societies, their efforts for existence and raising the awareness of society in this respect reveals the importance of this study.
References
Arayıcı, Ö. (2019). Cinsiyet Ayrımcılığının Ve Ötekileştirme Pratiklerinin Lgbti+'İn Cinsiyet Algısına Etkisi: İstanbul Ve İzmir Örneği. Manisa Celal Bayar Üniversitesi, Sosyal Bilimler Enstitüsü, Yüksek Lisans Tezi.
Başar, K., Öz. G. (2016). Cinsiyetinden hoşnutsuzluğu olan bireylerde psikolojik dayanıklılık: Algılanan sosyal destek ve ayrımcılık ile ilişkisi. Türk Psikiyatri Dergisi, 27, 1-10.
Begun, A. L. (1993). Human behavior and the social environment: The vulnerability, risk, and resilience model. Journal of Social Work Education, 29(1), 26-35.
Bhasin, K. (2003). Toplumsal cinsiyet bize yüklenen roller. (A. Coşkun, Çev.). İstanbul: Kadav Yayınları.
Biçmen, Z. & Bekiroğulları, Z. (2014). Social problems of LGBT people in Turkey. Procedia-social and behavioral sciences, 113, 224-233.
Bussey, Kay, Bandura, Albert (1999). "Social Cognitive Theory of Gender Development and Differentiation". Psychological Review 106(4): 676-713.
Denison, E.,, Kitchen, A. (2015). Out on the fields: the first international study on homophobia in sport. Epub: Repucom.
Domínguez-Fuentes, J. M., Hombrados-Mendieta, M. I., GarcÍa-Leiva, P. (2012). Social support and life satisfaction among gay men in Spain. Journal of homosexuality, 59(2), 241-255.
Dökmen, Z. (2012). Toplumsal Cinsiyet-Sosyal Psikolojik Açıklamalar, Remzi Kitabevi, İstanbul.
Englefield, L. (2012). LGBT Inclusion in sport. Council of Europe Publishing.
Griffin, P. (2012). LGBT equality in sports: Celebrating our successes and facing our challenges. Sexual orientation and gender identity in sport: Essays from activists, coaches, and scholars, 1-12.
Hall, A. M. (2011). Fostering Resilience in Transgender Youth: An Examination of Policies in Schools. St Mary's College of California.
Jordan, M. J. (2015). A phenomenological study of risk and resilience: LGB youths' perceptions of homophobia and their resilience (Doctoral dissertation, Fielding Graduate University).
Klein, F., Sepekoff, B., Wolf, T. J. (1985). Sexual orientation: A multi-variable dynamic process. Journal of homosexuality, 11(1-2), 35-49.
Korkmaz, N. H., Ünal, V. (2015). Examination of Students' Attitudes toward Homosexual Athletes—a Case Study of Sports Sciences Faculty of Uludağ University. US-China Education Review, 5(10), 682-691.
Lindsey, L. L. (2016). Gender Roles. A Sociological Perspective (6. bs.). USA: Routledge.
Mavhandu-Mudzusi, A. H. (2014). Experiences of lesbian, gay, bisexual, transgender and intersex students regarding sports participation in a South African rural based university. African Journal for Physical Health Education, Recreation and Dance, 20(Issue-22), 710-720.
McBride, D. E., Parry, J. A. (2016). Women's Rights in The USA, Policy Debates and Gender Roles, NewYork & London: Routledge.
Müller, A. (2017). Scrambling for access: availability, accessibility, acceptability and quality of healthcare for lesbian, gay, bisexual and transgender people in South Africa. BMC international health and human rights, 17(1), 16.
Namaste, V. (2000). Invisible lives: The erasure of transsexual and transgender people. Chicago: University of Chicago Press.
Patton, M. Q. (2002). Qualitative research and evaluation methods. Thousand Oakes.
Saraç, L., Rahim, Z. E. (2009). Sporda Homofobi: Erkek ve Kadın Üniversite Öğrencilerinin Eşcinsel Sporculara Karşı Tutumlarının Karşılaştırılması. Spor Bilimleri Dergisi, 20(3), 104-116.
Selek, P. (2014). Maskeler Süvariler Gacılar: Ülker Sokak: Bir Alt Kültürün Dışlanma Mekânı
Singh, A. A. (2013). Transgender youth of color and resilience: Negotiating oppression and finding support. Sex Roles, 68(11-12), 690-702.
Spaaij, R., Magee, J., Jeanes, R. (2014) Sport and social exclusion in global society. London: Routledge.
Şah, U. (2012). Eşcinselliğe, biseksüelliğe ve transseksüelliğe ilişkin tanımlamaların homofobi ve LGBT bireylerle tanışıklık düzeyi ile ilişkisi. Psikoloji Çalışmaları Dergisi, 32, (2), 23- 49.
Takács, J. (2006). Social exclusion of young lesbian, gay, bisexual and transgender (LGBT) people in Europe. Brussels, Belgium: ILGA Europe.
Turan, E. B., Uğurlu, A., Ateş, D., (2018). Spor Bilimleri Fakültesinde Okuyan Öğrencilerin Sporda Homofobiye Bakışı: Akdeniz Üniversitesi Örneği. Akdeniz Spor Bilimleri Dergisi, 1(2), 81-89.
American Psychological Association (2019). Lesbian, gay, bisexual, transgender. Erişim Linki: www.apa.org/topics/lgbt/ Erişim Tarihi: 09.12.2019.
Avrupa Konseyi (2011). Avrupa'da cinsel yönelim ve cinsiyet kimliğine dayalı ayrımcılık. Erişim Linki: www.coe.int/t/commissioner/Source/LGBT/LGBTStudy2011_Turkish.pdf Erişim Tarihi: 09.12.2019.
Kaos GL (2019). 2018 Medya İzleme Raporu. Kaos Gey ve Lezbiyen Kültürel Araştırmalar ve Dayanışma Derneği, Ankara (2019) Erişim Linki: http://www.kaosgldernegi.org/resim/yayin/dl/medya_izleme_raporu_2018a.pdf Erişim Tarihi: 09.12.2019.
http-1 : https://gaiadergi.com/futbol-borsada-degil-arsada-oynanir-ozgur-lig/
http-2 : https://www.kaosgl.org/haber/ozgur-lig-ankararsquoda-kuruluyor-lgbti-futbolcular-yesil-sahaya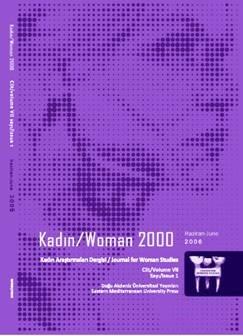 How to Cite
Engin, S. G., Yüce, A., & Katırcı, H. (2020). Colours of the Representative Rainbow of Freedom: Özgür League, Karşı League and LGBT+ Teams in Industrial Football. Kadın/Woman 2000, Journal for Women's Studies, 21(2), 187-212. https://doi.org/10.33831/jws.v21i2.110
Authors who publish with this journal agree to the following terms:
Authors retain copyright and grant the journal right of first publication, with the work [6 months] after publication simultaneously licensed under a Creative Commons Attribution License that allows others to share the work with an acknowledgement of the work's authorship and initial publication in this journal.
Authors are able to enter into separate, additional contractual arrangements for the non-exclusive distribution of the journal's published version of the work (e.g., post it to an institutional repository or publish it in a book), with an acknowledgement of its initial publication in this journal.
Authors are permitted and encouraged to post their work online (e.g., in institutional repositories or on their website) prior to and during the submission process, as it can lead to productive exchanges, as well as earlier and greater citation of published work (See The Effect of Open Access)