Contingency, Feminism, and Politics
Seval Ünlü

Beykoz University
Keywords:
contingency, Arendt, ethical life, life of the mind, unpredictability, irreversibility
Abstract
Contingency implies that something did not have to be as it is or it could have been otherwise. If something is contingent, it does not only mean that it is not obligatory, but it also means that its foreseen objectives cannot be achieved or it can produce unexpected consequences. Contingency thus has two constraints largely due to the nature of political action as Hannah Arendt points out: irreversibility and unpredictability of action. Feminism offers both a political theory and a political practice based on contingency against male dominated politics whose intention is to tame the contingency of action. First of all, feminism is contingent by its fundamental argument: even though patriarchy has taken different cultural forms and has been articulated with different modes of production, it is not either natural or obligatory. Second, feminism is contingent by its form of action: every struggle against patriarchy in everyday life has an effect on the structural transformation. As a transformative force, feminism is directly and deeply related to politics in terms of collective action. It is not only a struggle against patriarchy, but it also presents a treasure of experience concerning the meaning of contemporary political action. It does not only theorize patriarchal societies, but it also produces the means to theorize politics in a broader sense. This article discusses, with reference to Arendt, the possibilities of thinking the principles of contingent political action through feminism, and its contributions to political action in a broader sense.  
References
Arendt, H. (2005). The Promise of Politics. (Ed. Kohn, J.) New York: Schocken Books.
Arendt, H. (2012). Devrim Üzerine ( On Revolution - 1963). (Çev. Kara,O.E) İstanbul: İletişim.
Arendt, H. (2012a). Kötülüğün Sıradanlığı: Adolf Eichmann Kudüs'te (Eichmann in Jerusalem: A Report on the Banality of Evil-1963). (Çev. Çelik,Ö.) İstanbul: Metis.
Arendt, H. (2013). İnsanlık Durumu (The Human Condition - 1958). (Çev. Şener, B.S.) İstanbul: İletişim.
Arendt, H. (2014). Totalitarizmin Kaynakları 2: Emperyalizm (The Origins of Totalitarianism - 1951). (Çev. Şener,B.S.). İstanbul: İletişim.
Arendt, H. (2018). Zihnin Yaşamı (Life of the Mind- 1977). (Çev. Ilgar, İ.) İstanbul: İletişim.
Benhabib, S. (2000). The Reluctant Modernism of Hannah Arendt. Oxford: Rowman & Littlefield Publishers.
Benhabib, S. (2014). Ötekilerin Hakları: Yabancılar, Yerliler, Vatandaşlar (The Rights of Others: Aliens, Residents and Citizens - 2004). (B. Akkıyal, Trans.) İstanbul: İletişim.
Berktay, F. (2012). Dünyayı Bugünde Sevmek: Hannah Arendt'in Politika Anlayışı. İstanbul: Metis.
Buckler, S. (2012). Hannah Arendt and Political Theory: Challenging the Tradition. Edinburgh: Edinburgh University Press.
Butler, J. (2014). Kötü Bir Hayatta İyi Bir Hayat Sürmek Mümkün müdür? Adorno Ödülü Konuşması. (Eds. Ertür, B. & Semercioğlu, C.) Duvar, (12):1-11.
Canovan, M. (1978). The Contradictions of Hannah Arendt's Political Thought. Political Theory, 6(1): 5-26.
d'Entrèves, M.P. (1994). The Political Philosophy of Hannah Arendt (1994). London, New York: Routledge.
Dietz, M.G. (1995). Feminist Receptions of Hannah Arendt. In B. Honig (Ed.), Feminist Interpretations of Hannah Arendt. University Park: The Pennsylvania State University:17-50.
Fischbach, F. (2013). Comment Penser Philosophiquement le Social? Cahiers Philosophiques, (132):7-20.
Fischbach, F. (2015). Le Sens du Social: La Puissance de la Coopération. Montréal: Lux Editeur.
Habermas, J. (1996). Further Reflections on the Public Sphere. In, Calhoun, C. (Ed.), Habermas and the Public Sphere. Cambridge, London: The MIT Press:421-461.
Hanisch, C. (2013). Kişisel Olan Politiktir (The Personal is Political-1970). (Çev. Erişkin, A.N. & Duranay, H.) Kült Neşriyat.
Honig, B. (1995a). Introduction: The Arendt Question in Feminism. In, Honig B. (Ed.), Feminist Interpretations of Hannah Arendt. University Park: The Pennsylvania State University:1-16.
Honig, B. (1995b). Toward an Agonistic Feminism: Hannah Arendt and the Politics of Identity. In, Honig, B. (Ed.), Feminist Interpretations of Hannah Arendt. University Park: The Pennsylvania State University: 165-166.
Honneth, A. (2016). Tanınma Uğruna Mücadele: Sosyal Çatışmaların Ahlaki Grameri Üzerine (Kampf um Anerkennung: Zur Moralischen Grammatik Sozialer Konflikte-1992) (Çev. Aktok, Ö.). İstanbul: İthaki.
Özkan Kerestecioğlu, İ. (2018). Türkiye'de Güncel Feminist Hareket İçindeki Ayrışmalar ve Tartışmalar. In, Berber, N. (Ed.), Duvarlar Yıkmak, Köprüleri Kurmak: Yeni Küresel Feminizmin Yükselişi ve İmkânları. İstanbul: Heinrich Böll Stiftung Derneği Derneği Türkiye Temsilciliği:54-63.
Pitkin, H.F. (1998). The Attack of the Blob: Hannah Arendt's Concept of the Social. Chicago, London: The University of Chicago Press.
Rancière, J. (2004). Who is the Subject of the Rights of Man? South Atlantic Quarterly, 103(2/3):297-310.
Rich, A. (1979). On Lies, Secrets, and Silence. New York: Norton.
Sayer, A. (2011). Why Things Matter to People? Social Science, Values and Ethical Life. New York: Cambridge University Press.
Taminiaux, J. (2004). Le paradoxe de l'appartenance et du retrait. In, Abensour, M., Buci-Glucksmann, C., Cassin, B., Collin, F. & d'Allones, M.R. (Eds.), Colloque Hannah Arendt: Politique et Pensée. Paris: Payot:121-142.
Ünlü Gök, S. (2017). Siyaset Deneyimi Olarak Toplumsal Mücadele: Özgürleşim ve Özneleşme. İstanbul: İstanbul Üni. Sosyal Bilimler Enstitüsü Doktora Tezi .
Ünlü, S. (2019). Sosyal Olandan Kaçış Siyasal mıdır? Sosyal Olanın Normatif Kapsamına Dair Bir Değerlendirme. In, Bakioğlu, A. (Ed.), 9. Ulusal Sosyoloji Kongresi Toplum 4.0 Bildiriler Kitabı. Ankara: Sosyoloji Derneği:711-719. Retrieved from http://www.sosyolojidernegi.org.tr/s/2300/i/2019_Sosyoloji_Kongresi_Tam_Metin_Kitab%C4%B1.pdf.
Vardenberghe, F. (2016). Alman Sosyolojisinin Felsefi Tarihi. (Çev. Öğütle, S.) İstanbul: Ayrıntı.
Wolin, S.S. (1969). Political Theory as a Vocation. The American Political Science Review, 63(4):1062-1082.
Young, I.M. (1998). Impartiality and the Civic Public. In, Landes J.B. (Ed.), Feminism, the Public, and the Private. Oxford, New York: Oxford University Press:421-447.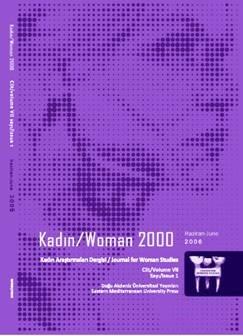 How to Cite
Ünlü, S. (2020). Contingency, Feminism, and Politics. Kadın/Woman 2000, Journal for Women's Studies, 21(2), 43-57. https://doi.org/10.33831/jws.v21i2.118
Authors who publish with this journal agree to the following terms:
Authors retain copyright and grant the journal right of first publication, with the work [6 months] after publication simultaneously licensed under a Creative Commons Attribution License that allows others to share the work with an acknowledgement of the work's authorship and initial publication in this journal.
Authors are able to enter into separate, additional contractual arrangements for the non-exclusive distribution of the journal's published version of the work (e.g., post it to an institutional repository or publish it in a book), with an acknowledgement of its initial publication in this journal.
Authors are permitted and encouraged to post their work online (e.g., in institutional repositories or on their website) prior to and during the submission process, as it can lead to productive exchanges, as well as earlier and greater citation of published work (See The Effect of Open Access)