Analyzing the Relationship between Spatial Representations and Gender in Charlotte Gilman's Novel, HERLAND
Keywords:
Gender and space, architecture and literature, utopian fiction, Charlotte P. Gilman, Herland
Abstract
The aim of this paper is to explore the connections between architecture, interior spaces, urban environment, and social issues through the medium of literary fiction. In particular, it is to analyze the spatial representations through cues and interpretations as well as their impact on social inequalities, specifically gender discrimination, which is the governing theme that shapes the plot, within Charlotte P. Gilman's utopian fiction Herland. Space within literature can be seen as an essential part of storytelling because it allows the reader to fully comprehend the surroundings that the author hopes to portray throughout the literature. In relevance to the novel, the portrayed environment emphasizes the gender inequalities that were evident through Gilman's lifetime. In addition, gender governs the overall space within Herland, therefore, the space holds the same characteristics as women; the country existed as it is for the sole purpose of benefitting the user profile – the inhabitants of Herland. Gilman also criticizes architecture and interior spatial norms of her time throughout the novel by suggesting a completely different layout and function. To address the questions and issues mentioned, an in-depth study of the novel, the author, the authors' time, and related publications were employed to further understand the relationship between space, gender and literature. The conducted analysis revealed this relationship by the elimination of gender roles and the alteration of conventional spaces; thus depicting a more utopian country, as a form of literary criticism to her dystopian era.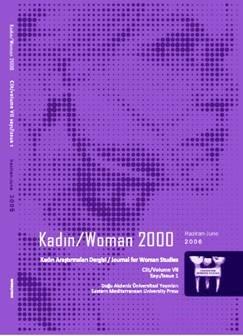 Downloads
How to Cite
Al Sahli, L., Tuna Ultav, Z., & Sever, M. (2021). Analyzing the Relationship between Spatial Representations and Gender in Charlotte Gilman's Novel, HERLAND. Kadın/Woman 2000, Journal for Women's Studies, 22(1), 67–82. https://doi.org/10.33831/jws.v22i1.132
License
Authors who publish with this journal agree to the following terms:
Authors retain copyright and grant the journal right of first publication, with the work [6 months] after publication simultaneously licensed under a Creative Commons Attribution License that allows others to share the work with an acknowledgement of the work's authorship and initial publication in this journal.
Authors are able to enter into separate, additional contractual arrangements for the non-exclusive distribution of the journal's published version of the work (e.g., post it to an institutional repository or publish it in a book), with an acknowledgement of its initial publication in this journal.
Authors are permitted and encouraged to post their work online (e.g., in institutional repositories or on their website) prior to and during the submission process, as it can lead to productive exchanges, as well as earlier and greater citation of published work (See The Effect of Open Access)