The Effect of Socio-Cultural Norms on Female Labor Force Participation in Afghanistan
İnci Parlaktuna

eskişehir osmangazi üniversitesi

Sediqa Sediqi
Keywords:
FlFp, gender empowerment, Patriarchy, Socio-Cultural And Traditional Norms
Abstract
This study based on the review of literature in Afghanistan, collected quantitative data through sequentially structured questionnaires to determine cultural effects on FLFP in Afghanistan. In this purpose, the study aims to use two types of data collection to determine the main research question on "whether socio-cultural norms affect the employability of women". The results provide evidence based on the purpose of the study that, socio-cultural norms affect women's employability regardless of their educational level, employment status and the region's level of development. Though most of the respondents of the survey were educated,  majority of single educated women were the ones who were busy working in service, the industry as well as the agriculture sector. While this case is not true, for married educated women due to social norms and conservatism as one of the major reasons behind their unemployment to enter the job market.
References
Afghanistan Youth National Policy (2014). National Youth Policy, Islamic Republic of Afghanistan,2014.http://www.youthpolicy.org/national/Afghanistan_2013_Draft_National_Youth_Policy.pdf , July 2013.
Ahmed-Ghosh, Huma. (2003). "A History of Women in Afghanistan: Lessons Learnt for the Future or Yesterdays and Tomorrow". Journal of International Women's Studies, Vol: 4, No: 3, pp. 1-14.
Augustin, E. Assad, R. & Jaziri, D. (2012). Women empowerment for improved research in agricultural development, innovation and knowledge transfer in the West Asia/North Africa region. Association of Agricultural Research Institutions in the Near East and North Africa.
Barakat, S and Wardell G. (2001). Capitalizing on capacities of Afghan women: women's role in Afghanistan's reconstruction and development. Working paper 4.
Blau, Francine D., Marianne A. Ferber, and Anne E. Winkler (2014). The economics of women, men, and work. Boston, Mass: Pearson.
CSO and UNICEF (2012), Afghanistan Multiple Indicator Cluster Survey 2010-11: Final report. Kabul, Central Statistics Organization and UNICEF.
Dupree, N. H. (1986). Seclusion or Service: will Women have a role in the Future of Afghanistan? The Afghanistan Forum, Occasional Paper #29, New York.
Fatima, A. and Sultana, H. (2009). Tracing out the U-Shape Relationship between FLFP rate and Economic Development for Pakistan, Applied Econometrics Research Center. University of Karachi.
Ganesh, L. (2013). Women's economic empowerment in Afghanistan 2002-2012. Afghanistan investment support
Davies, C and CNN. (2012). Mideast women beat men in education, lose out at work. Inside the Middle East, UN statistic Division, 2012.
Golechha, Y.V. (2016). Women in Afghanistan: Past, Present and Future.
Hamdan, A. (2005). "Women and education in Saudi Arabia: Challenges and achievements". International Education Journal, Vol: 6, No: 1, pp. 42-64.
Index Mundi (2013). Afghanistan demographics profile. Retrieved from: http://www.indexmundi.com/afghanistan/demographics_profile.html,
Kakar, H.K. (1979). Government and Society in Afghanistan. London, University of Texas Press.
Khaama Press (2014). Youth empowerment key for poverty eradication in Afghanistan. https://www.khaama.com/youth-empowerment-key-for-poverty-eradication-in-afghanistan-2699/, 16, January, 2014.
Li Li and Ishani Desai, "Analyzing FLFP in Afghanistan identifying the key barriers that prevent women from entering the labor force", Johan F. Kennedy School of Government on Public Administration in International Government, (Published Master thesis), United States, 2016, s. 67.
Lucero, Tim, and E. L. Gaston. Women's Access to Justice in Afghanistan: Individual Versus Community Barriers to Justice. Washington, DC: United States Institute of Peace, 2014.
Mahboba (1986). The Problem of Women's Rights. QAZA, Translated from Persian. No. 8: 39- 60. (Text in Dari).
Malikyar, H. (1998). Afghan Women and Women in Islam: Parallels and Divergences. Paper presented at the UNESCO Conference La Femme Afghane a travers l'Histoire de Afghanistan, Paris, France.
Offenhauer, P. (2005). Women in Islamic societies: A selected review of social scientific literature. Library of Congress, Retrieved from: http://www.loc.gov/rr/frd/pdf-files/Women_Islamic_Societies.pdf , 2005.
Rahimi, M. R. (1991). Status of Women in Afghanistan, Social and Human Sciences in Asia and the Pacific. RUSHSAP Series on Monographs and Occasional Papers, UNESCO Documents.
State of employment in Afghanistan (2012). Time to move to Sustainable Jobs Study on the state of Employment in Afghanistan. United Nations Development Assistance Framework 2010-2013.
Simmons-Benton, A. Heinzelman, J. Sackett, J. (2012). Economic empowerment strategies for Afghan women. USAID from the American people. AFGHANISTAN SMALL AND MEDIUM-SIZED ENTERPRISE DEVELOPMENT ACTIVITY (ASMED).
UN (2002). SILENCE IS VIOLENCE End the Abuse of Women in Afghanistan. Office of the United Nations High Commissioner for Human Rights Geneva.
World Bank (2013b). "Opening doors. Gender equality and development in the Middle East and North Africa" MENA Development Report. Washington, DC: World Bank.
World Bank (2018). World Development Indicator, data retrieved from https://data.worldbank.org/indicator April 2019.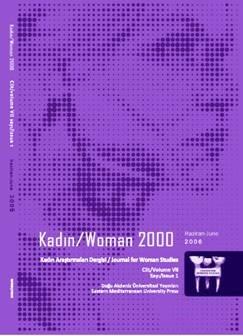 How to Cite
Parlaktuna, İnci, & Sediqi, S. (2020). The Effect of Socio-Cultural Norms on Female Labor Force Participation in Afghanistan. Kadın/Woman 2000, Journal for Women's Studies, 21(2), 19-41. https://doi.org/10.33831/jws.v21i2.154
Authors who publish with this journal agree to the following terms:
Authors retain copyright and grant the journal right of first publication, with the work [6 months] after publication simultaneously licensed under a Creative Commons Attribution License that allows others to share the work with an acknowledgement of the work's authorship and initial publication in this journal.
Authors are able to enter into separate, additional contractual arrangements for the non-exclusive distribution of the journal's published version of the work (e.g., post it to an institutional repository or publish it in a book), with an acknowledgement of its initial publication in this journal.
Authors are permitted and encouraged to post their work online (e.g., in institutional repositories or on their website) prior to and during the submission process, as it can lead to productive exchanges, as well as earlier and greater citation of published work (See The Effect of Open Access)