Home as a Instrument of Power: "Masculine Domination" and "Other Woman" in the What Remains and Fatal Attraction
Selda Tunç Subaşi

Bağımsız Araştırmacı
Keywords:
masculine domination, home space, female body, class, gender
Abstract
In this study, experiences of women related to home space in What Remains (Çiğdem Vitrinel, 2011) and Fatal Attraction (Adrian Lyne, 1987) are evaluated on the basis of Pierre Bourdieu's "masculine domination" concept, using feminist critical discourse analysis. Bourdieu examines the symbolic reflections of two gendered fields, masculine and feminine, in the power relations in the study of Masculine Domination (1998). The women reproduce internalized gender practices with domestic routine in family institution. In both films, the home is a sign of symbolic violence, hence these two films are close together in this study. Although women have different interests, lifestyles, or experience the home space in different ways, the home space remains a fixed place that reinforces masculine domination. In this context, the home space that turns into an extension of the female body discloses the class differences between women. The home space produces an asymmetric class position among women and their bodies are "disciplined" according to this position. In the representations, the relation between women who are opponents to each other damages, so the possibility of reconstructing their relationship seems possible by questioning symbolic domination.
References
Arpacı, M. (2019). Cinsiyet, Kötülük ve Beden: Femme Fatale İmgesinin Kültürel İnşası. Fe Dergi, 11(1): 140-154.
Babener, L. (1992). Patriarchal Politics in Fatal Attraction. Journal of Popular Culture, 26(3): 25-34.
Berland, E., & Wechter, M. (1992). Fatal/Fetal Attraction: Psychological Aspects of Imagining Female Identity in Contemporary Film. Journal of Popular Culture, 26(3): 35-45.
Bora, A. (2010). Kadınların Sınıfı: Ücretli Ev Emeği ve Kadın Öznelliğinin İnşası. İstanbul: İletişim Yayınları.
Bourdieu, P. (1989). Social Space and Symbolic Power. Sociological Theory, 7(1): 14-25.
Bourdieu, P. (1996). Masculine Domination Revisited. Berkeley Journal of Sociology, 41: 189-203.
Bourdieu, P. (2001). Masculine Domination (çev. R. Nice). California: Stanford University Press.
Bourdieu, P. (2014). Simgesel Sermaye ve Toplumsal Sınıflar. Cogito (76): 192-204.
Bourdieu, P. (2015). Eril Tahakküm (çev. B. Yılmaz). İstanbul: Bağlam Yayınları.
Bourdieu, P. (2018). Bir Pratik Teorisi İçin Taslak: Kabiliye Üzerine Üç Etnoloji Çalışması (çev. N. Ökten). İstanbul: Bilgi Üniversitesi.
Chambers, C. (2005). Masculine Domination, Radical Feminism and Change. Feminist Theory, 6(3): 325-346.
Chodos, H., & Curtis, B. (2002). Pierre Bourdieu's Masculine Domination: A Critique. Canadian Review of Sociology/Revue Canadienne de Sociologie, 39(4): 397-412.
Davis, K. (1992). The Allure of the Predatory Woman in Fatal Attraction and Other Current American Movies. Journal of Popular Culture, 26(3): 47-57.
Donovan, J. (2005). Feminist Teori (çev. A. Bora, M. A. Gevrek, & F. Sayılan). İstanbul: İletişim.
Eiguer, A. (2018). Evin Bilinçdışı (çev. P. Akgün). İstanbul: Bağlam.
Fairclough, N. (2005). Peripheral Vision: Discourse Analysis in Organization Studies: The Case for Critical Realism. Organization Studies, 26(6): 915-939.
Fox Kales, E. (2003). Body Double As Body Politic: Psychosocial Myth and Cultural Binary in Fatal Attraction. The International Journal of Psychoanalysis, 84(6): 1631-1637.
Hewitt, P., & Bromley, S. (1992). Fatal Attraction: The Sinister Side of Women's Conflict About Career and Family. Journal of Popular Culture, 26(3): 17-23.
Işık, E. (1998). Beden ve Toplum Kuramı. İstanbul: Bağlam.
Karadağ, M. (2009). Pierre Bourdieu'nün Sınıf Analizi: Sınıf Pratikleri, Sınıf Habitüsü ve Sembolik Şiddet. İçinde D. Hattatoğlu & G. Ertuğrul (Der.), Méthodos: Kuram ve Yöntem Kenarından (ss. 190-212). İstanbul: Anahtar Kitaplar.
Köse, H. (2016). Bourdieu Düşüncesinde Tahakküm-İtaat İlişkisi ve Sosyo-Politik Beden. Ankara Üniversitesi İlef Dergisi, 3(2): 173-199.
Lazar, M. M. (2007). Feminist Critical Discourse Analysis: Articulating a Feminist Discourse Praxis. Critical Discourse Studies, 4(2), 141-164.
Mottier, V. (2002). Masculine Domination: Gender and Power in Bourdieu's Writings. Feminist Theory, 3(3): 345-359.
Öztimur, N. (2014). Feminist Teoride Pierre Bourdieu Tartışmaları. İçinde G. Çeğin, E. Göker, A. Arlı, & Ü. Tatlıcan (Der.), Ocak ve Zanaat (ss. 581-605). İstanbul: İletişim.
Sancar, S. (2009). Erkeklik: İmkânsız İktidar. İstanbul: Metis.
Schick, İ. C. (2014). Cinsiyetin Üretildiği Bir Alan Olarak Mekân. İçinde E. Çelebi, D. Havlioğlu, & E. Kayaalp (Der.), Sınır Bilgisi: Siyasal İktidar, Toplumsal Mekân ve Kadına Yönelik Şiddet (ss. 23-35). Ankara: Ayizi.
Swartz, D. (2011). Kültür ve İktidar: Pierre Bourdieu'nun Sosyolojisi (çev. E. Gen). İstanbul: İletişim.
Van Dijk, T. A. (1999). Critical Discourse Analysis and Conversation Analysis. Discourse & Society, 10(4): 459-460.
Wacquant, L. (2014). Simgesel İktidar ve Grup Oluşumu: Pierre Bourdieu'nün Sınıfı Yeniden Çerçevelemesi Üzerine. Cogito(76), 204-230.
Zengin, G.G. (2017). Feminist Bir Film Pratiği Olarak Geriye Kalan Filmine Bakmak: Kadın Karakterler Üzerinden Bir İnceleme. Kadın/Woman 2000, 18(2): 55-68.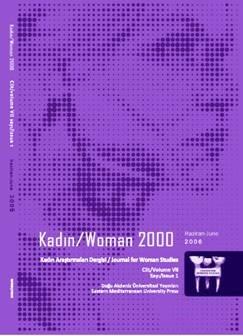 How to Cite
Tunç Subaşi, S. (2020). Home as a Instrument of Power: "Masculine Domination" and "Other Woman" in the What Remains and Fatal Attraction. Kadın/Woman 2000, Journal for Women's Studies, 21(2), 167-186. https://doi.org/10.33831/jws.v21i2.183
Authors who publish with this journal agree to the following terms:
Authors retain copyright and grant the journal right of first publication, with the work [6 months] after publication simultaneously licensed under a Creative Commons Attribution License that allows others to share the work with an acknowledgement of the work's authorship and initial publication in this journal.
Authors are able to enter into separate, additional contractual arrangements for the non-exclusive distribution of the journal's published version of the work (e.g., post it to an institutional repository or publish it in a book), with an acknowledgement of its initial publication in this journal.
Authors are permitted and encouraged to post their work online (e.g., in institutional repositories or on their website) prior to and during the submission process, as it can lead to productive exchanges, as well as earlier and greater citation of published work (See The Effect of Open Access)