Conservative Women's Organizations and their Approaches to the Women's Rights From the Third Wave Feminist Perspective
Keywords:
Third Wave Feminism, Women's Movement, Islamist Women's Organizations
Abstract
This study focuses on Islamist women's organizations as civil society actors. Although this research is based on a comprehensive field study covering all women's organizations and activists in Eskişehir, only the data gathered from interviews at Islamist women's organizations were analyzed for the purposes of this study. The study, investigates the position of Islamic women's organizations in women's movements in terms of their defense of women's rights and their stance against patriarchal domination in line with their understanding of the female body. The discourse of women's rights defended in Islamist women's organizations is established with reference to Islam. The discourse criticizes gender equality as a universal value and replaces it with gender justice because Islamist women believe that Western Feminism does not cover the reality of Muslim women. In line with the Islamic narration of creation, Islamist women advocate the distribution of justice according to the vital religious notion of created/given natural characteristics (fîtra) of the sexes. In addition, they do not see their bodies as their own but as God's trust and are thus against abortion. Therefore, within the women's movement in Turkey, tension is growing between secular women and Islamist women, between gender equality and gender justice, causing division rather than solidarity among women.
References
Abou-Bakr, O. 2001. 'Islamic feminism? What's in a name? Preliminary reflections', Middle East Women's Studies Review 15–16, pp. 1–2
Ali, Z. (2014). İslami Feminizmler (Çev. Öykü Elitez), İstanbul, İletişim Yayınları.
Aktaş, C. (1991a) Sistem İçinde Kadın, İstanbul: Beyan Yayınları
Aktaş, C. (1991b) Tesettür ve Toplum Başörtülü Öğrencilerin Toplumsal Kökeni Üzerine Bir İnceleme, İstanbul: Atlas&Nehir İletişim
Alankuş Kural, S. (1997) "Alternatif Kamular ve İslamcı Kadınlar", Toplum ve Bilim, Sayı: 72 (5-44)
Alkan, A. ve Çakır, S. (2019) "Osmanlı İmparatorluğu'ndan Modern Türkiye'ye Cinisyet Rejimi: Süreklilik ve Kırılmalar", 1920'den Günümüze Türkiye'de Toplumsal Yapı ve Değişim, (Der. Faruk Alpkaya ve Bülent Duru), Phoenix: Ankara
Andalzûa, G. E. (2002) "(Un)natural bridges, (Un)safe spaces", (Ed. Andalzûa, G. ve Keating, A.) This Bridge We Call Home, New York: Routledge
Arat, Y. (2005) Rethinking Islam and Liberal Democrac: Islamist Women in Turkish Politics, New York: State University of New York
Arat, Y. (1998) "Feminists, Islamists, and Political Change in Turkey", Political Psychology, Vol.19, No.1 (117-131)
Aslan Akman, C (2008) "Sivil Toplumun Yeni Aktörleri Olarak İslami Eğilimli Kadın Dernekleri", Toplum ve Demokrasi, 2(4), ss.71-90
Ayata, G. ve Fatma Tütüncü (2008) "Party Politics of the AKP (2002-2007) and the Predicaments of Women at the Intersection of the Westernist, Islamist and Feminist Discourses in Turkey", Biritish Journal of Middle Eastern Studies, 35(3), 363-384
Aydın Yılmaz, S. (2015) Kadın Hareketinde Yeni Bir İvme: Toplumsal Cinsiyet Adaleti, Turkish Policiy Quarterly, Kış 2015 (ss.107-115)
Badran, M., 2002. 'Islamic feminism: what is in a name?' Al-Ahram Weekly 17–23(569), pp. 1–8
Barbarosoğlu, F. (2019) Şov ve Mahrem, 6. Baskı, İstanbul: Profil
Barlas, A. (2019) Müslüman Kadınlar ve Baskı: Kuran'dan Yola Çıkan Özgürlük", İslami Feminizmler, 3. Baskı, (Çev. Öykü Elitez), İstanbul, İletişim Yayınları.
Bora, T. (2017) Cereyanlar Türkiye'de Siyasi İdeoloji, İstanbul: İletişim
Bora, A. ve Asena Günal (2014) "Önsöz", 5. Baskı, 90'larda Türkiye'de Feminizm, (Ed. Aksu Bora ve Asena Günal) İstanbul: İletişim
Butler, J. (2019) Cinsiyet Belası Feminizm ve Kimliğin Altüst Edilmesi, 7. Baskı, İstanbul: Metis
Butler, J. (2004) Undoing Gender, New York Routledge
Collins, P. H. (2000a) Black Feminist Thought: Knowledge, Consciousness and the Politics of Empowerment, 2.th Ed. New York: Routledge
Collins, P. H. (2000b) " Gender, Black Feminism, and Black Political Economy", The Annals of the American Academy of Political and Social Science, Vol. 568, The Study of African American Problems: W. E. B. Du Bois's Agenda, Then and Now (Mar.,2000), ss. 41-53 (https://www.jstor.org/stable/1049471)
Çaha, Ö. (1996). Sivil Kadın: Türkiye'de Sivil Toplum ve Kadın. (Çev. Ertan Özensel) Ankara: Vadi
Çakır, S. (1996) Osmanlı Kadın Hareketi, İstanbul: Metis
Çakır, R. (2000a) Direniş ve İtaat: İki İktidar Arasında İslamcı Kadın, İstanbul: Metis
Davis, Angela Y. (1981) Women, Race and Class. New York: Random House.
Demircan Çakar, N. (2015) "Toplumsal Cinsiyet Temelinde Örgütsel Adalet Algısı: Etik İklimin Rolü", Kadem Kadın Araştırmaları Dergisi, Sayı 2, s.79-93
Diner, Ç. ve Toktaş, Ş. (2010) "Waves of Feminism in Turkey: Kemalist, Islamist and Kurdish Women's Movement in an Era of Globalization", Journal of Balkan and Near Eastern Studies, 12:1 41-57
Donovan, J. (2019). Feminist Teori, (Çev. Aksu Bora, Meltem Ağduk Gevrek ve Fevziye Sayılan), İstanbul:İletişim
Ebert, T. L. (1991) "The 'Difference' of Postmodern Feminism", Vol. 53, Number 8, (886-904)
Erkmen, S. (2020) Türkiye'de Kürtaj AKP İktidarı ve Biyopolitika, İstanbul: İletişim
Ferree, M.M., ve Mueller, C.M. (2004) "Feminism and the Women's Movement: A Global Perspective". D.A. Snow, S.A. Soule ve H. Kriesi (Ed.), The Blackwell Companion to Social Movements içinde (576-607). Blackwell.
Firestone, S. (1993) Cinselliğin Diyalektiği, (Çev. Yurdanur Salman) İstanbul: Payel
Foucault, M. (2007) Cinselliğin Tarihi, (Çev. Hülya Tanrıöver) İstanbul: İletişim
Gramsci, A. (2007) Hapishane Defterleri, 5. Baskı, (Çev. Adnan Cemgil), İstanbul: Belge Yayınları
Green, M. (2002)"Gramsci Cannot Speak: Presentations and Interpretations of Gramsci's Concept of the Subaltern." Rethinking Marxism, vol. 14, no. 3, Fall 2002, 1-23.
Göle, N. (1994) Modern Mahrem Medeniyet ve Örtünme, İstanbul: Metis
İlkkaracan, İ. (2015) "Giriş: Müslüman Toplumlarda Kadın ve Cinsellik", (Der. İpek İlkkaracan) Müslüman Toplumlarda Kadın ve Cinsellik, İstanbul: İletişim
İlyasoğlu, A. (1994) Örtülü Kimlik, 2. Basım, İstanbul: Metis
Kantola, J. ve Squires J. (2012) "From State Feminism to Market Feminism", International Political Science Review, 33(4) 382-400
Kardam, F ve Ecevit, Y.(2014) "1990'ların Sonunda Bir Kadın İletişim Kuruluşu: Uçan Süpürge", 90'larda Türkiye'de Feminizm, (Der.) A. Bora ve A. Günal, İstanbul: İletişim Yayınları, s87-109.
McClintock A (1995) Imperial Leather: Race, Gender and Sexuality in the Colonial Contest. London: Routledge.
Mernissi, F. (2015a) "İslam'da Aktif Kadın Cinselliği", (Der. İpek İlkkaracan) Müslüman Toplumlarda Kadın ve Cinsellik, İstanbul: İletişim
Mernissi, F. (2015b) "Bekaret ve Ataerki", (Der. İpek İlkkaracan) Müslüman Toplumlarda Kadın ve Cinsellik, İstanbul: İletişim
Millet, K. (2000) Sexual Politics, Chicago:University of Illinois Press
Nash, J. C. (2011) "'Home Truths' and Intersectionality", Law and Feminism, Vol.23, No.1 ss.445-467.
Narayan, U. (1997) Dislocating Cultures: Identities, Cultes and Third World Feminism, New York: Routledge
Özcan, E. (2015) "Women's headscarves in News Photographs: A comparison between the secular and Islamic press during the AKP government in Turkey", Eurepean Journal of Communication, 30(6), 1-16
Ritzer, George. (2011) Sociological Theory, Boston: McGraw-Hill.
Saktanber, A. (2002) "Whose Virtue is This? The Virtue Party and Women in Islamist Politics in Turkey" (Ed. Paola Bacchetta ve Margaret Power) Wright Wing Women: From Conservatives to Extremists Around the World, New York: Routledge
Sancar, S. (2013) "Türkiye'de Kadın Hareketinin Politiği: Tarihsel Bağlam, Politik Gündem ve Özgünlükler", (Der. Serpil Sancar), Birkaç Arpa Boyu 21. Yüzyıla Girerken Türkiye'de Feminist Çalışmalar, 1. Cilt İstanbul: Koç Üniversitesi Yayınları
Sancar, S. (2014) Türk Modernleşmesinin Cinsiyeti Erkekler Devlet, Kadınlar Aile Kurar, 3. Baskı, İstanbul: İletişim
Sarıgöl, P. (2013). Kesişimsellik Teorisi Bağlamında Kadın Deneyimleri: Almanya'daki Türkiyeli Göçmen Kadınlar. (Yayımlanmamış Yüksek Lisans Tezi). Ankara Üniversitesi, Sosyal Bilimler Enstitüsü, Kadın Çalışmaları Anabilim Dalı.
Spivak, G. C. (1994) "Can Subaltern Speak?", (Ed. Patrick Williams and Laura Chrisman) Colonial Discourse and Post-Colonial Theory A Reader, New York: Columbia University Press
Spivak, G. C. (2017) Yapısöküm Postkolonyalizm Madunluk, (Çev. Soner Torlak) İstanbul: Zoom Kitap.
Suğur, S. Cangöz, İ., Gönç-Şavran, T. ve Yeşildal, H. (2015) "Blurring the Boundaries between the State and Autonomy: The case of Women's Organisations in Eskisehir", International Conference on Knowledge and Politics in Gender and Women's Studies, Middle East Technical University Etkinlik Tarihi: 09.10.2015 - 11.10.2015 Ankara/Turkey
Şişman, N. (2016) Emanetten Mülke Kadın Beden Siyaset, 4. Baskı, İstanbul:İz Yayıncılık
Şişman, N. (2000) Kamusal Alanda Başörtülüler Fatma Karabıyık Barbarasoğlu ile Söyleşi, İstanbul:İz Yayıncılık
Tekeli, Ş. (1993) "1980'ler Türkiyesinde Kadınlar", 1980'ler Türkiyesinde Kadın Bakış Açısından Kadınlar, (Ed. Şirin Tekeli), İstanbul: İletişim
Timisi, N. ve Ağduk Gevrek, M. (2014) "1980'ler Türkiyesi'nde Feminist Hareket: Ankara Çevresi", 5. Baskı, 90'larda Türkiye'de Feminizm, (Ed. Aksu Bora ve Asena Günal) İstanbul: İletişim
Walby, S. (2011) Future of Feminism, Cambridge: Polity
Yılmaz, Z. (2015) Dişil Dindarlık: İslamcı Kadın Hareketinin Dönüşümü, İstanbul: İletişim

Internet Kaynakları
Aktaş, C. Ramazanoğlu, Y. (2009) "Kadın Üzerine Soruşturma", EskiYeni, Sayı 12 (https://dergipark.org.tr/en/download/article-file/487598)
Bora, A. (2004) "Feminizm: Sınırlar ve İhlal İmkânı", Birikim, Sayı: 184-185 https://birikimdergisi.com/dergiler/birikim/1/sayi-184-185-agustos-eylul2004/2370/feminizm-sinirlar-ve-ihlal-imkani/4765
Crenshaw, K. (1991) "Demarginalizing the Intersection of Race and Sex: A Black Feminist Critique o Antidiscrimination Doctrine", Feminist Theory and Antiracist Politics https://philpapers.org/archive/CREDTI.pdf?ncid=txtlnkusaolp00000603
Çaha, Ö. (2013) "Feminizm Nedir?", https://kadem.org.tr/feminizm-nedir/ (Erişim 05.07.2020)
Çakır, R. (2000b) Dindar Kadının Serüveni https://birikimdergisi.com/dergiler/birikim/1/sayi-137-eylul-2000/2329/dindar-kadinin-seruveni/2512
Aktaş, Cihan (2000) Kamusal Alanda İslamcı Kadın ve Erkeklerin İlişkilerinde Değişim Üzerine: Bacıdan Bayana, Birikim, Sayı:137 https://birikimdergisi.com/dergiler/birikim/1/sayi-137-eylul-2000/2329/kamusal-alanda-islamci-kadin-ve-erkeklerin-iliskilerindeki-degisim-uzerine-bacidan-bayana/2513
Mir-Hosseini, Z. (2006) "Muslim Women's Quest for Equality: Between Islamic Law and Feminism", Critical Inquiry 32, The University of Chicago. http://www.zibamirhosseini.com/documents/mir-hosseini-article-quest-for-equality-2006.pdf
Mir-Hosseini, Z. (2010). Understanding Islamic Feminism. https://mronline.org/2010/02/09/understanding-islamic-feminism-interview-with-ziba-mir-hosseini/
Sancar Üşür, S. Yıldız Ecevit ve Mine Göğüş Tan (2000) Kadın Erkek Eşitliğine Doğru Yürüyüş Eğitim Çalışma Yaşamı ve Siyaset, TÜSİAD Yayınıfile:///C:/Users/user1/AppData/Local/Packages/Microsoft.MicrosoftEdge_8wekyb3d8bbwe/TempState/Downloads/kadin2000.pdf
Şefkatli Tuksal, H. (2007) The UnethicalDisqualification of Women Wearing the Headscarf in Turkey, Turkish Policy Quarterly, http://turkishpolicy.com/images/stories/2007-01-womeninTR/TPQ2007-1-07-hidayets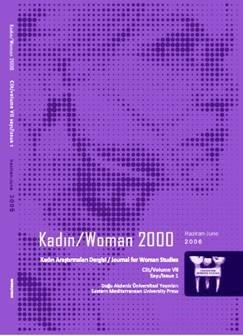 Downloads
How to Cite
Cangöz, İncilay, Gönç Şavran, T., Suğur, S., & Yeşildal, H. (2022). Conservative Women's Organizations and their Approaches to the Women's Rights From the Third Wave Feminist Perspective. Kadın/Woman 2000, Journal for Women's Studies, 22(2), 47–71. https://doi.org/10.33831/jws.v22i2.235
License
Authors who publish with this journal agree to the following terms:
Authors retain copyright and grant the journal right of first publication, with the work [6 months] after publication simultaneously licensed under a Creative Commons Attribution License that allows others to share the work with an acknowledgement of the work's authorship and initial publication in this journal.
Authors are able to enter into separate, additional contractual arrangements for the non-exclusive distribution of the journal's published version of the work (e.g., post it to an institutional repository or publish it in a book), with an acknowledgement of its initial publication in this journal.
Authors are permitted and encouraged to post their work online (e.g., in institutional repositories or on their website) prior to and during the submission process, as it can lead to productive exchanges, as well as earlier and greater citation of published work (See The Effect of Open Access)