Identity and the Availability of Emergency Contraception from Pharmacies in Istanbul
Keywords:
emergency contraception, availability, pharmacies, identity, Turkey
Abstract
Emergency contraception (EC) has been and remains available in Turkey without prescription since 2002. This study attempted to determine the availability of emergency contraception from pharmacies in Istanbul, Turkey and whether the identity of the purchaser had any impact on availability. More specifically, we sought to understand if young women feel shamed or denied access to EC. This study employed a mystery patient/shopper approach where mystery patients attempted to purchase emergency contraception from a random sample of 352 pharmacies in Istanbul. Mystery shoppers, ages 18-22, were trained and provided a standard scenario and identity. The identities included: conservative/ religious female; secular/modern female; and male. After each pharmacy visit, the mystery patients recorded the details of their attempts to purchase EC. In 95.4% of visits mystery shoppers were able to purchase EC. Despite the availability of several types of EC, little choice was given to shoppers. Male mystery shoppers were given more choice of EC than their female counterparts and were more often able to purchase the less expensive form of EC. In the majority of transactions, pharmacists offered no medical instructions or recommendations. EC is widely available from pharmacies in Istanbul but lack of choice and information from pharmacists result in a less than ideal health care experience.
References
Acar, F., & Altunok, G. (2013). The 'politics of intimate' at the intersection of neo-liberalism and neo-conservatism in contemporary Turkey. Women's Studies International Forum, 41, 14–23. https://doi.org/10.1016/J.WSIF.2012.10.001
Aksu, H. & Karaöz, B. (2008) Acil kontrasepsiyon yöntemlerinin tanıtım gereksinimi. Sağlık bilimleri dergisi, 17, 63-68.
Apikoglu-Rabus, S., Clark, P.M. & Izzettin, F.V. (2012). Turkish pharmacists' counseling practices and attitudes regarding emergency contraceptive pills. International Journal of Clinical Pharmacy, 34(4), 579-86. doi: 10.1007/s11096-012-9647-x.
Ball, D.E., Marafie, N. & Abahussain, E. (2006). Awareness and perceptions of emergency contraception among retail pharmacists in Kuwait. Pharmacy World Science, 28, 101–106. https://doi.org/10.1007/s11096-006-9009-7
Björnsdottir, I., Granas, A.G., Bradley, A. & Norris, P. (2020). A systematic review of the use of simulated patient methodology in pharmacy practice research from 2006 to 2016. International Journal of Pharmacy Practice, 28(1), 13–25. https://doi.org/10.1111/ijpp.12570
Doğaner, D., Bilgiç, D., Doğaner, A., Umut, Ü., Kürk, H. & Çelik, E. (2011). 15 – 49 yaş kadınların acil kontrasepsiyona ilişkin bilgi ve tutumları. Dokuz Eylül Üniversitesi Hemşirelik Fakültesi Elektronik Dergisi, 4:(4):159-164. https://www.deuhyoedergi.org/index.php/DEUHYOED/issue/archive
Erdoğan: Doğum Kontrolü Dediler, Neslimizi Kurutma Yoluna Gittiler. (2019). Retrieved from https://m.bianet.org/bianet/toplumsal-cinsiyet/209179-erdogan-dogum-kontrolu-dediler-neslimizi-kurutma-yoluna-gittiler
Erdoğan: En az üç çocuk diyorum; dinamik genç nüfus yapısını dengede tutmak zorundayız. (2019). Retrieved from https://t24.com.tr/haber/erdogan-yaslilar-surasi-nda-konusuyor,
Erdoğan: Müslüman aile doğum kontrolü yapmaz. (2016). Retrieved from https://www.bbc.com/turkce/haberler/2016/05/160530_erdogan_dogum_kontrol
European Consortium for Emergency Contraception. (2018). Turkey. Retrieved from https://www.ec-ec.org/emergency-contraception-in-europe/country-by-country-information-2/turkey/
Fuentes, E.C. & Azize-Vargas, Y. (2007). Knowledge, attitudes and practices in a group of pharmacists in Puerto Rico regarding emergency contraception, Puerto Rico Health Sciences Journal, 26, 191-197.
Glasier, A. Baraitser, P., McDaid,L., Norrie, J., Radley, A., Stephenson, J.M.,…Data Monitoring Committee. (2021). Emergency contraception from the pharmacy 20 years on: a mystery shopper study, BMJ Sexual and Reproductive Health, 47, 55–60.
Glasier, A., Manners, R., Loudon, J.C. & Muir, A. (2010). Community pharmacists providing emergency contraception give little advice about future contraceptive use: a mystery shopper study. Contraception, 82, 538–42.
Glasier, A.F., Cameron, S.T., Fine, P.M., Logan, S.J., Casale, W., Van Horn, J.,… Gainer, E. (2010). Ulipristal acetate versus levonorgestrel for emergency contraception: a randomised non-inferiority trial and meta-analysis, Lancet,375, 555-562. DOI: 10.1016/S0140-6736(10)60101-8
Hacettepe University Institute of Population Studies. (2018). Turkey Demographic and Health Survey Retrieved from http://www.hips.hacettepe.edu.tr/eng/tdhs2018/TDHS_2018_main_report.pdf; 2020
Karaduman, F. & Terzioğlu, F. (2008). Üniversite öğrencilerinin acil kontrasepsiyona ilişkin bilgi ve uygulamaları, Turkiye Klinikleri Journal of Medical Sciences, 28, 899-908.
Koçak, D.Y., Duman, N.B., Topuz, Ş., Yılmazel, G., Güngör, G. & Başçı, A.B. (2016). Üreme çağındaki kadınların acil kontrasepsiyon ile ilgili bilgi, tutum ve davranışları, Jinekoloji - Obstetrik ve Neonatoloji Tıp Dergisi,13, 112-116.
Meşru ve muteber nikah olmadan yaşanan birliktelik haram kılınmıştır. (2019). Retrieved from https://www.diyanethaber.com.tr/diyanet-haber/mesru-ve-muteber-nikah-olmadan-yasanan-birliktelik-haram-kilinmistir-h6350.html
O'Neil M.L. (2017). The availability of abortion at state hospitals in Turkey: A national study. Contraception, 2017, 95, 148-153. https://doi.org/10.1016/j.contraception.2016.09.009
Queddeng, K., Chaar, B. & Williams, K. (2011). Emergency contraception in Australian community pharmacies: a simulated patient study. Contraception, 83, 176-182. DOI: 10.1016/j.contraception.2010.07.011
Szűcs, M. Párduczné Szöllősi, A. & Bártfai, G. (2010). Knowledge and attitudes of pharmacists regarding over-the-counter emergency contraception in South-Eastern Hungary. European Journal of Contraception and Reproductive Health Care, 15, 336-342. https://doi.org/10.3109/13625187.2010.510225
T.C. Aile, Çalışma ve Sosyal Hızmetleri Bankanlığı. Doğum yarıdımı. Retrieved from https://www.ailevecalisma.gov.tr/tr-tr/sss/sosyal-yardimlar-genel-mudurlugu/dogum-yardimi/
Tebrikler kızınız hamile. (2012). Retrieved from https://www.haberturk.com/ekonomi/makro-ekonomi/haber/753536-tebrikler-kiziniz-hamile
Uzun, G.D., Sancar, M. & Okuyan, B. (2019). Evaluation of knowledge and attitude of pharmacist and pharmacy technicians on emergency contraception method in Istanbul, Turkey: A simulated patient study. Journal of Research Pharmacy, 23(3), 395-402. doi.org/10.12991/jrp.2019.147
Yam, E.A., Gordon-Strachan, G., McIntyre, G., Fletcher, H., García, S.G., Becker, D. & Ezcurra, E. (2007). Jamaican and Barbadian health care providers' knowledge, attitudes and practices regarding emergency contraceptive pills. International Family Planning Perspectives 33(4), 160-167.
Zeldin, W. (2012). Turkey: Law restricting caesarean births. Retrieved from https://www.loc.gov/law/foreign-news/article/turkey-law-restricting-caesarean-births/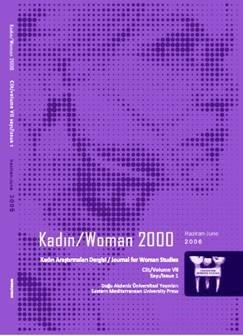 Downloads
How to Cite
O'Neil, M. L., & Aldanmaz, B. (2022). Identity and the Availability of Emergency Contraception from Pharmacies in Istanbul. Kadın/Woman 2000, Journal for Women's Studies, 22(2), 35–45. https://doi.org/10.33831/jws.v22i2.318
License
Authors who publish with this journal agree to the following terms:
Authors retain copyright and grant the journal right of first publication, with the work [6 months] after publication simultaneously licensed under a Creative Commons Attribution License that allows others to share the work with an acknowledgement of the work's authorship and initial publication in this journal.
Authors are able to enter into separate, additional contractual arrangements for the non-exclusive distribution of the journal's published version of the work (e.g., post it to an institutional repository or publish it in a book), with an acknowledgement of its initial publication in this journal.
Authors are permitted and encouraged to post their work online (e.g., in institutional repositories or on their website) prior to and during the submission process, as it can lead to productive exchanges, as well as earlier and greater citation of published work (See The Effect of Open Access)