The Reception of Frozen among Young Women in Turkey: A Feminist Film or Not?
Keywords:
Frozen, young women in Turkey, reception studies
Abstract
This article focuses on the reception of Frozen by young Turkish women, posing three major questions: (1) How did young women in Turkey describe Elsa? (2) What are the differences between Frozen and other princess movies? (3) Do young Turkish women think Frozen is a feminist movie? The most interesting findings of this research have to do with the third question. Here a superficial view of the responses would suggest that the research participants agree with those critics of Frozen who claim that it is not a feminist film. However, once one takes a closer look at their responses, one can see that this agreement holds only in form, and not in content, as the research participants recognize feminist qualities in the film but without being willing to label them as feminist. The reason for this has to do with the negative connotations of the terms "feminism" and "feminist" in Turkish mainstream language. Here, a feminist viewpoint has to be expressed in terms of "women – men equality" instead. This particular finding points to the more general need in any cross-cultural research to ascertain the translatability of central terms having evaluative connotations, like "feminism" and "feminist" in this case.
References
Basile, T. (2014). Four Reasons Why 'Frozen' is the Most Feminist Disney Movie Ever (Yes, More than Brave or Mulan). Theresa Basile (blog), 2014. Accessed May 21, 2022. http://theresabasile.com/wp/2014/02/03/4-reasons-why-frozen-is-the-most-feminist-disney-movie-ever-yes-more-than-brave-or-mulan/
Berber, N. (2011). Özel sektörde yönetici kadınların cinsiyet kimliği ve feminizm algısı [The gender identity of women managers in the private sector and their perception of feminism]. (Unpublished master thesis). Istanbul: İstanbul University, Social Sciences Institute.
Bick, A. (2013). Frozen and Feminism on Screen. Jewish Women's Archive (blog), December 12, 2013. Accessed May 21, 2022. https://jwa.org/blog/frozen-and-feminism-on-screen
Code, L. 2002. Sisterhood. In L. Code (Ed.), Encyclopedia of Feminist Theories (p. 448). London and New York, NY: Routledge.
Coyne, S. M., Linder, J. R., Rasmussen, E. E., Nelson, D. A. and Birkbeck, V. (2016). Pretty as a Princess: Longitudinal Effects of Engagement with Disney Princesses on Gender Stereotypes, Body Esteem, and Prosocial Behavior in Children. Child Development, 87 (6), 1909–1925.
Dundes, L., and Dundes, A. (2005). Young Hero Simba Defeats Old Villain Scar: Oedipus Wrecks the Lyin' King. The Social Science Journal, 43 (3), 479–485.
Dundes, L., and Streiff, M. (2016). Reel Royal Diversity? The Glass Ceiling in Disney's Mulan and Princess and the Frog. Societies, 6 (4), 35.
Dundes, L., Streiff, M., and Streiff, Z. (2018). Storm power, an icy tower and Elsa's Bower: The winds of change in Disney's Frozen. In L. Dundes (Ed.), The Psychosocial implications of Disney movies (pp. 202–230). Basel: MDPI.
England, D. E., Descartes, L., and Collier-Meek, M. A. (2011). Gender Role Portrayal and the Disney Princesses. Sex Roles, 64 (7–8), 555–567.
Feder, S. (2014). Slamming the Door: An Analysis of Elsa (Frozen). The Feminist Wire. Acceseed May 21, 2022. https://thefeministwire.com/2014/10/slamming-door-analysis-elsa-frozen/
Fisher, D. P. (2019). Frozen was our most important feminist film but the sequel won't have the same impact. The Conversation. Accessed May 21, 2022. https://theconversation.com/frozen-was-our-most-important-feminist-film-but-the-sequel-wont-have-the-same-impact-118915
Garlen, J. C., and Sandlin, J. A. (2017). Happily (N)ever After: The Cruel Optimism of Disney's Romantic Ideal. Feminist Media Studies, 17 (6), 957–971.
Gerbner, G., Gross, L., Morgan, M., and Signorelli, N. (1980). The "Mainstreaming" of America: Violence Profile No. 11. Journal of Communication, 30 (3), 10–29.
Gerbner, G., Gross, L., Morgan, M., and Signorielli, N. (1994). Growing up with television: The cultivation perspective. In J. Bryant and D. Zillmann (Eds.), Media effects: Advances in theory and research (pp. 17–41). Hillsdale: Lawrence Erlbaum Associates, Inc.
Graves, S. B. (1999). Television and Prejudice Reduction: When Does Television as a Vicarious Experience Make a Difference? Journal of Social Issues, 55 (4), 707–727.
Groskop, V. (2019). Anthems, girl power and redemption: how Frozen ticked all the right boxes. The Guardian. Accessed May 21, 2022. https://www.theguardian.com/film/2019/nov/17/how-frozen-melts-children-hearts
Hospers, J. (1997). An introduction to philosophical analysis. Upper Saddle River, NJ: Prentice Hall.
Humm, M. (1995). The Dictionary of Feminist Theory. Columbus, OH: Ohio State University Press.
İstatistiklerle Kadın [Woman in Statistics] 2020. TÜİK Haber Bülteni [TUIK News Bulletin], Sayı: 37221, 2021. Accessed September 19, 2021. https://data.tuik.gov.tr/Bulten/Index?p=Istatistiklerle-Kadin-2020-37221
Joyce, M. A. (2013). Advance Perspective: Disney's Frozen Defies Expectations. Depth of Field Magazine. Accessed May 21, 2022. https://www.depthoffieldmagazine.com/2013/10/26/advance-perspective-disneys-frozen-defies-expectations/
Kağıtçıbaşı, Ç. (1986). Status of Women in Turkey: Cross-Cultural Perspectives. International Journal of Middle East Studies, 18 (4), 485–499.
Konda Türkiye'de Toplumsal Cinsiyet Raporu [Konda Gender Report in Turkey]. (2019).
Accessed September 19, 2021.
https://konda.com.tr/wp-content/uploads/2019/11/KONDA_ToplumsalCinsiyetRaporu.pdf
Macaluso, M. (2016). The postfeminist princess: Public discourse and Disney's curricular guide to feminism. In J. A. Sandlin and J. C. Garlen (Ed.), Disney, culture, and curriculum (pp. 73–86). New York: Routledge.
McClintock, P. (2014). Box Office Milestone: 'Frozen' Becomes No. 1 Animated Film of All Time. The Hollywood Reporter. Accessed May 21, 2022. https://www.hollywoodreporter.com/movies/movie-news/box-office-milestone-frozen-becomes-692156/ Moustakas, C. (1994). Phenomenological research methods. Thousands Oaks, CA: Sage Publications.
Rudloff, M. (2016). (Post)feminist Paradoxes: The Sensibilities of Gender Representation in Disney's Frozen. Outskirts, 35, 1–20.
Streiff, M., and L. Dundes. (2017). Frozen in Time: How Disney Gender-Stereotypes Its Most Powerful Princess. Social Sciences, 6, 38. DOI:10.3390/socsci6020038
Thompson, T. L. and E. Zerbinos. (1995). Gender Roles in Animated Cartoons: Has the Picture Changed in 20 years? Sex Roles, 32 (9–10), 651–673.
Toprak, B. (1999). Emancipated but unliberated women in Turkey, the impact of Islam. In F. Özbay (Ed.), Women family and social change in Turkey (pp. 39–50). Bangkok: UNESCO.
Towbin, M. A., S. A. Haddock, T. S. Zimmerman, L. K. Lund, and L. R. Tanner. (2003). Images of Gender, Race, Age, and Sexual Orientation in Disney Feature-Length Animated Films. Journal of Feminist Family Therapy, 15 (4), 19–44.
Wiersma, B. A. (2000). The Gendered World of Disney: A Content Analysis of Gender Themes in Full-length Animated Disney Feature Films", Electronic Theses and Dissertations 1906, Open Prairie, South Dakota State University. https://openprairie.sdstate.edu/etd/1906
Yıldırım, A., and Hasan Ş. (2008). Sosyal bilimlerde nitel araştırma yöntemleri [Qualitative Research Methods in Social Sciences]. Ankara: Seçkin Yayınları.
Zurcher, J. D., Sarah M. Webb, and T. Robinson. (2018). The Portrayal of Families across Generations in Disney Animated Films. Social Sciences, 7 (3), 47.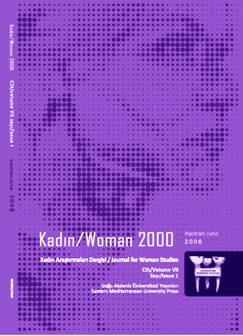 Downloads
How to Cite
Tepe, F. F., & Bauhn, P. (2023). The Reception of Frozen among Young Women in Turkey: A Feminist Film or Not?. Kadın/Woman 2000, Journal for Women's Studies, 24(1), 97–114. https://doi.org/10.33831/jws.v24i1.432
License
Copyright (c) 2023 Kadın/Woman 2000, Journal for Women's Studies
This work is licensed under a Creative Commons Attribution-NonCommercial 4.0 International License.
Authors who publish with this journal agree to the following terms:
Authors retain copyright and grant the journal right of first publication, with the work [6 months] after publication simultaneously licensed under a Creative Commons Attribution License that allows others to share the work with an acknowledgement of the work's authorship and initial publication in this journal.
Authors are able to enter into separate, additional contractual arrangements for the non-exclusive distribution of the journal's published version of the work (e.g., post it to an institutional repository or publish it in a book), with an acknowledgement of its initial publication in this journal.
Authors are permitted and encouraged to post their work online (e.g., in institutional repositories or on their website) prior to and during the submission process, as it can lead to productive exchanges, as well as earlier and greater citation of published work (See The Effect of Open Access)