Family Law, Human Rights and Gender: An Examination of Turkish Comparative Rectitude
Keywords:
family law, gender, fault based divorce system, comparative rectitude, fidelity, domestic violence
Abstract
This article is an examination of Turkish jurisprudence of comparative rectitude in divorce cases, in terms of human rights and gender. I will focus on the cases in where one spouse (usually the wife) has been adulteress while the other spouse (usually the husband) has committed violence against his spouse. The decisions of the courts claiming the adulteress and violence perpetrator are equal at faults or sometimes violence perpetrator at a lesser fault will be criticized. Critics will be brought on 'fidelity' as a marital duty, which is a vague concept, and its sexist interpretation in legal disputes. Another legal framework in marital duties that does not shape moral or sexual behaviours of the spouses but avoids human rights abuses will be proposed as concluding thoughts.
References
Akıntürk T. & Ateş-Karaman D. (2014) Türk Medeni Hukuku Aile Hukuku. İstanbul: Beta.
Aydın-Şafak A. (2014) Feminist Bir Bakışla Türk Aile Hukukunda Kadın Bedeni. İstanbul: XII Levha.
Banakar R. & Travers M. (2005). Studying Legal Texts. In Banakar R. & Travers M. (Eds), Theory and Method in Socio-Legal Research. Portland: Hart Publishing.
Bartlett K.T. (1999). Feminism and Family Law. Family Law Quarterly, 33: 475-500.
Bunch C. (1990). Women's Rights as Human Rights: Toward a Re-Vision of Human Rights. Human Rights Quarterly, 12: 486-498.
Choudhry S. & Herring J. (2006). Righting Domestic Violence. International Journal of Law, Policy and the Family, 20: 95-119.
Çağlar Gürgey F.İ. (2016) Türk Hukukunun Aile Kavrayışı. In, Üye S., Atılgan E.Ü., Akı E.İ., İspir Z., Kaya F. (Eds.), Prof. Dr. Adnan Güriz'e Armağan. Ankara: Anakara Üniversitesi Yayınları: 359-387.
Eekelaar J. (2012). Self-Restraint: Social Norms, Individualism and the Family. Theoretical Inquiries in Law, 13: 75-95.
Ilkkaracan P. (2008). How Adultery Almost Derailed Turkey's Aspirations to Join the European Union. In Ilkaracan P. (Ed.), Deconstructing Sexuality in the Middle East Challenges and Discourses. Hampshire: Ashgate: 41-64.
Kılıçoğlu A. (2003) Medeni Kanunumuzun Aile-Miras-Eşya Hukukuna Getirdiği Yenilikler. Ankara: Turhan Kitabevi.
Kuçuradi I. (2013) Human Rights: Concepts and Problems. Berlin: Lit Verlag. MacKinnon C.A. (1991). Toward a Feminist Theory of the State. Massachusetts: Harvard University Press.
Orucu E. (1987-1988). Turkey: Reconciling Traditional Society and Secular Demands. Journal of Family Law, 26: 221-236.
Orucu E. (2004). Family Law Enters the New Century. International Survey of Family Law: 469-482.
Orucu E. (1991-1992). Turkish Family Law: A New Phase. Journal of Family Law, 30: 431-438.
Orucu E. (2006). The Story of Adultery in Turkey. International Survey of Family Law: 469-480.
Sancar S. (2012) Türk Modernleşmesinin Cinsiyeti: Erkekler Devlet, Kadınlar Aile Kurar. İstanbul: İletişim Yayınları.
Sancar T. (2013) Türk Ceza Hukukunda Kadın. Ankara: Seçkin.
Sev'er A. & Yurdakul G. (2001). Culture of Honor Culture of Change: A Feminist Analysis of Honor Killings in Rural Turkey. Violence Against Women, 7(9): 959-963.
Taekema S. & Van der Burg W. (2015). Introduction: The Incorporation Problem in Interdisciplinary Legal Research. Erasmus Law Review, 2: 39-42.
Türk Kanunu Medeni Lahiyası (1/791) ve Adliye Encümeni Mazbatası (1926) [transcription to Latin alphabet 1977] Türkiye Büyük Millet Meclisi Zabıt Ceridesi, Devre: II, İçtima senesi: III Cilt 22: 239-241. Accessed via: https://www.tbmm.gov.tr/develop/owa/td_v2.goruntule?sayfa_no_ilk=229&sayfa_no_son=234&sayfa_no=239&v_meclis=1&v_donem=2&v_yasama_yili=&v_cilt=22&v_birlesim=057. Accessed on 1.10.2018.
Aile Sosyal Politikalar Bakanlığı, Hacettepe Üniversitesi Nüfus Etütleri Enstitüsü (2015). Türkiye'de Kadına Yönelik Aile İçi Şiddet Araştırması. Ankara. Available at: http://www.hips.hacettepe.edu.tr/KKSA-TRAnaRapor Kitap26Mart.Pdf. Accessed on 4.10.2018.
Yildirim S. (2005). Aftermath of a Revolution: A Case Study of Turkish Family Law. Pace International Law Review, 17: 347-371.
Uygur G. (2016). The Job of the Judge in the Context of Silenced People: The Opuz Case. In R. Hauser et al. (Ed.). The Common European Constitutional Culture. Frankfurt Am Main: Peter Lang Edition.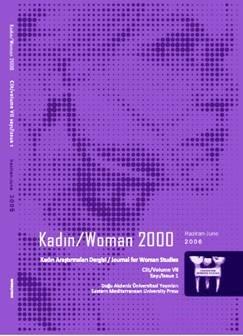 Downloads
How to Cite
Özdemir, N. (2019). Family Law, Human Rights and Gender: An Examination of Turkish Comparative Rectitude. Kadın/Woman 2000, Journal for Women's Studies, 20(1), 87–100. https://doi.org/10.33831/jws.v20i1.53
License
Authors who publish with this journal agree to the following terms:
Authors retain copyright and grant the journal right of first publication, with the work [6 months] after publication simultaneously licensed under a Creative Commons Attribution License that allows others to share the work with an acknowledgement of the work's authorship and initial publication in this journal.
Authors are able to enter into separate, additional contractual arrangements for the non-exclusive distribution of the journal's published version of the work (e.g., post it to an institutional repository or publish it in a book), with an acknowledgement of its initial publication in this journal.
Authors are permitted and encouraged to post their work online (e.g., in institutional repositories or on their website) prior to and during the submission process, as it can lead to productive exchanges, as well as earlier and greater citation of published work (See The Effect of Open Access)