Neoliberal Burdens for Women in Academy: 'How Dare We Not Work'
Keywords:
digital storytelling, neoliberal academy, feminist perspective, fear
Abstract
In this article, I discuss the potential of digital storytelling as a site where feminist scholars in academia can get together to reflect upon their concerns about neoliberal burdens in academia. I rely on the recent literature about the feminist interventions in higher education in addition to giving an account of the grass-roots digital storytelling movement around the world and its feminism oriented journey in Turkey. Focusing on the digital stories told at the pre-conference digital storytelling workshop in EMU (Eastern Mediterranean University) immediately before the 5th International Conference on Gender Studies in March 2015, the aim of that digital storytelling workshop was not only to facilitate the creation of digital stories told by feminist academics but also to carry these digital stories into the program of the conference in a special session that hosted both the screening of these digital stories and an open discussion about our neoliberal concerns in academia and everyday life. This article also provides an account of the main discussions and attempts to suggest the digital storytelling workshop as a tool for broadening the interactions between academic and activist feminisms.
References
Coşar S. & Ergül H. (2015). Free Marketization of Academia through Authoritarianism: The Bologna Process in Turkey. Alternative Routes: A Journal of Critical Social Research, 26:101-124.
David M. & Clegg S. (2008). Power, Pedagogy and Personalization of Global Higher Education: The Occlusion of Second-Wave Feminism? Discourse: Studies in Cultural Politics of Education,29(4): 482-498.
Giroux H.; Apple M.; McLaren P.; Freire P. & Harvey D. (2009). Eleştirel Pedagoji Söyleşileri. (Trans: Eylem Çağdaş Babaoğlu). İstanbul: Kalkedon
İnce Ş. (forthcoming, 2015). The Pot, the Cup and the Jar: Coming Together in/for Stories. Journal of Cultural Science, 5(2): N/A.
Hart J. (2008). Mobilization Among Woman Academics: The Interplay between Feminism and Professionalization. NWSA Journal, 20(1):184-208.
Hartley J. & McWilliam K. (2009). Story Circle: Digital Storytelling Around the World. West Sussex: Wiley-Blackwell.
Kabakcı-Zeybek G.(2012). Eğitimli Kadınların Gündelik Hayatını Kuşatan Korkular. İletişim Araştırmaları, 10(1-2): 47-76.
Köker E. (1996). Feminist Alternatif Medya. İçinde, Ankara Üniversitesi İletişim Fakültesi Yıllık 1995/1996: 23–44.
Şimşek B. (2013). Darısı Sizlerin Başına: Sözün Ötesinde Sesin Eşitlik Arayışı. In, Güven-Lisaniler F. & Üçışık-Erbilen S. (Eds.), Gender Equality and the Law: 4th International Conference on Gender Studies Conference Proceedings. Famagusta: EMU Press: 299-309.
Şimşek B. (2012b).Enhancing Women's Participation in Turkey Through Digital Storytelling. Journal of Cultural Science, 5(2): 28-46.
Şimşek B. (2012a). Using Digital Storytelling for Women's Participation in the Turkish Public Sphere. PhD. Thesis, Queensland University of Technology: Brisbane.http://eprints.qut.edu.au/50894.
Webber M. (2008). Miss Congeniality Meets the New Manageralism: Feminism, Contingent Labour and the New University. Canadian Journal of Higher Education, 38(3): 37-56.
Vatansever A. & Yalçın-Gezici M. (2015). Ne Ders Olsa Veririz: Akademisyenin Vasıfsız İşçiye Dönüşümü. İstanbul: İletişim Yayınları.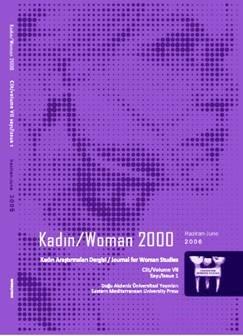 Downloads
How to Cite
Şimşek, B. (2019). Neoliberal Burdens for Women in Academy: 'How Dare We Not Work'. Kadın/Woman 2000, Journal for Women's Studies, 17(1), 51–72. https://doi.org/10.33831/jws.v17i1.69
License
Authors who publish with this journal agree to the following terms:
Authors retain copyright and grant the journal right of first publication, with the work [6 months] after publication simultaneously licensed under a Creative Commons Attribution License that allows others to share the work with an acknowledgement of the work's authorship and initial publication in this journal.
Authors are able to enter into separate, additional contractual arrangements for the non-exclusive distribution of the journal's published version of the work (e.g., post it to an institutional repository or publish it in a book), with an acknowledgement of its initial publication in this journal.
Authors are permitted and encouraged to post their work online (e.g., in institutional repositories or on their website) prior to and during the submission process, as it can lead to productive exchanges, as well as earlier and greater citation of published work (See The Effect of Open Access)