Representation of Women Power in TV Commercials: The Use of Super Heroes
Keywords:
TV commercial, representation of women, super hero, ideological re-produce, myth
Abstract
In Turkey, in recent years, representation of power is presented on various ways on mass media. Related to power of media, this situation is 'most symbolically' confronted on TV commercials. The power is mostly presented to the audience by the channel of a certain representation. Advertisement contents mostly convey their messages by referring to people in the society and with the channel of 'real people or created super heroes'. The contents are based according to the role of woman and man in society. Within the context of gender mainstreaming— especially on modern democratic social systems stratification related to gender —inequality and discrimination affect women badly. Employing such advertisements reproduces the disadvantaged role and also further weakens women's relative position the modern patriarchal-structured societies. By referring to the position of women in the society,pacificated women's representations are reflected on the TV commercials similarly just as in their daily lives. Since the 'house' is seen to belong to women during the socio-cultural, economic and-political developments of societies, house duties are mostly offered in particular to the world of women. In this framework, the most obvious examples of the representations concerning the house take place especially on the cleaning product advertisements. Moreover, in these advertisements it is possible to mention the usage of a real or imaginary hero who use the product or represent the product. Since the target-market of cleaning products are women, advertisement contents are also designed according to the world of women. In this study, representation of women's power and usage of super hero on the TV commercials of cleaning products Cif, Mr. Muscle, Ace were analyzed with the semiological analysis method. Even, it seems that different cleaning brands using representation of power on similar ways, there are some sort of differences on content and visuality when they were analyzed. 
References
Althusser L. (1970). Ideologle et Apparells Ideologiques d'Etat. La Pensee.
Paris: No. 151.
Anderson P. (1988). Gramsci, Hegemonya, Doğu/Batı Sorunu ve Strateji. (Çev:T. Günersel). İstanbul: Alan Yayınları.
Artun İ. (2012). Masallar ve Toplumsal Cinsiyet: Kadın Kimliğinin Ataerkil Söylemlerle Yeniden Yapılandırılması. Karine. İnternet adresi: http://iletisim. ieu.edu.tr/karine/?p=265. Erişim Tarihi: 01.05.2014.
Barthes R. (1990). Çağdaş Söylenler. (Çev: T. Yücel). İstanbul: Hürriyet Vakfı Yayınları.
Berger J. (1986). Görme Biçimleri. (Çev: Salman Y). İstanbul: Metis Yayınları.
Craig S. (1997). Madison Avenue Versus The Feminine Mystique: How the Advertising Industry Responded to The Onset of The Modern Women's Movement. Popular Culture Association Conference. San Antonio/Texas, March 27.
Daniels L. & Kidd C. (1998). Superman: The Complete History: The Life and Times of The Man of Steel. London: Titan.
Erdoğan İ. (1995). Süpermen Kim ve Yaptığı İş Ne? Emperyalis Güç, Güçsüzlük ve İdeoloji. Sinemada Temsil: Gücün Yüceltilmesi. Bilim ve Ütopya, (Mayıs).
Evenmag (2013). Reklamda Süper Kahraman Kullanımı. İnternet adresi: http://www.evenmag.com/reklam/reklamda-super-kahramankullanimi.html Erişim tarihi: 29.04.2014
Foucault M. (2000). Entelektüelin Siyasi İşlevi. (Çev: Ergüden I.; Akınhay O. &
Keskin F.). İstanbul: Ayrıntı Yayınları.
Giddens A. (2000). Sosyoloji. (Çev: Özel H.). Ankara: Ayraç Yayınları.
Grafikerler.org (2009). Renkler ve Anlamları. İnternet adresi: http://www.g rafikerler.org/konu/renkler-ve-anlamlari.9330/. Erişim tarihi: 01.05.2014.
Güngör S. (2001). Althusser'de İdeoloji Kavramı. Süleyman Demirel Üniversitesi İktisadi ve İdari Bilimler Fakültesi, 6(2): 221-231.
Hall S. (1996). Who Needs 'Identity'?. İçinde, Hall S. & Gay P.D. (Der.), Questions of Cultural Identity. London: Sage.
Holt D.B. (2004). How Brands Become Icons: The Principles of Cultural Branding. Boston: Harvard Business School Press.
Karadaş N. (2012). Televizyon Reklamlarında Aileye İlişkin Değerlerin Temsili.
Selçuk İletişim, 7(3): 78-89.
Representation of Women Power in TV Commercials 119
Kaya S. (2014). Medyada Kadının Temsili. İnternet adresi: http://www.yeniasi r.com.tr/yazarlar/seda_kaya_guler/2014/03/05/medyada-kadinin-temsili. Erişm tarihi: 01.10.2014 .
Küçükerdoğan R.G. (2005). Reklam Söylemi. İstanbul: Es Yayınları.
Lefebvre H. (1964). Sociologie de Marx. Paris: PUF Collection SUP.
Morton D. (2011). Gramsci'yi Çözümlemek. İstanbul: Kalkedon Yayınları.
Sancar S. (2009). Erkeklik-İmkânsız İktidar: Ailede, Piyasada ve Sokakta Erkekler. İstanbul: Metis Yayınları.
Sezer M.Ö. (2010). Masallar ve Toplumsal Cinsiyet. İstanbul: Evrensel Basım Yayın.
Tucker R.C. (1978). The Marks-Engels Reader. New York: Monthly Review Press.
Yılmaz N. (2007). Televizyonda Yayımlanan Gıda Reklamlarında Kadın İmgesinin İncelenmesi. Yayınlanmamış Yüksek Lisans Bitirme Tezi. Ankara
Üniversitesi Sosyal Bilimler Enstitüsü.
Williams R. (1990). Marksizm ve Edebiyat. İstanbul: Adam Yayınları.
Williamson J. (2000). Reklamların Dili: Reklamlarda Anlam ve İdeoloji. Ankara: Ütopya Yayınevi.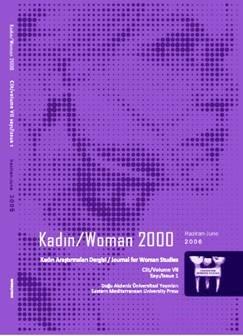 Downloads
How to Cite
Akıner, N., & Birol, M. (2019). Representation of Women Power in TV Commercials: The Use of Super Heroes. Kadın/Woman 2000, Journal for Women's Studies, 17(1), 103–119. https://doi.org/10.33831/jws.v17i1.71
License
Authors who publish with this journal agree to the following terms:
Authors retain copyright and grant the journal right of first publication, with the work [6 months] after publication simultaneously licensed under a Creative Commons Attribution License that allows others to share the work with an acknowledgement of the work's authorship and initial publication in this journal.
Authors are able to enter into separate, additional contractual arrangements for the non-exclusive distribution of the journal's published version of the work (e.g., post it to an institutional repository or publish it in a book), with an acknowledgement of its initial publication in this journal.
Authors are permitted and encouraged to post their work online (e.g., in institutional repositories or on their website) prior to and during the submission process, as it can lead to productive exchanges, as well as earlier and greater citation of published work (See The Effect of Open Access)