Woman Leaders of the World Politics and Political Masculinities: A Semiotic Analysis
Keywords:
political masculinities, women leaders, semiotics, Angela Merkel, Theresa May, Federica Mogherini
Abstract
The aim of this article is to seek the answers for the question of how the images of women leaders are presented in international media. For this inquiry, three of Europe's most influential female leaders namely Angela Merkel (Germany), Theresa May (Great Britain) and Federica Mogherini (EU) were chosen. In this article, selected images of Merkel, May and Mogherini were analysed in the light of the political masculinities literature from a social visual semiotics perspective. It is believed that such an analysis will contribute to the debates about gender(ed) aspect of international relations as well as the current debates on political masculinities. This study also attempts to hint at how the streotypical representations can be challenged by different actors' representations of different facets of political representations in domestic and international politics.
References
Acker J. (1990). Hierarchies, Bodies, and Jobs: A Gendered Theory of Organizations. Gender and Society, 4(2): 139-58.
Ataç A. (2017). Başkanlık için Wonder Woman! 2016 Amerikan Başkanlık Seçimleri, Hillary Clinton ve Feminist Gelecek. Fe Dergi, 9(2): 81-94.
Barthes R. (2018). Göstergebilimsel Serüven (9. Baskı). İstanbul: Yapı Kredi Yay.
Beninghoff M. (2005) 'Höh! Das Alphaweibchen lacht'. Die Zeit, 4 Ekim 2005.
Bilgiç A. (2015). We are not Barbarians: Gender Politics and Turkey's Quest for West. International Relations, 29(2): 198-218.
Business Insider (17 Temmuz 2017). Angela Merkel's Incredible Rise to a Quantum Chemist and the World's Most Powerful Woman. İnternet adresi: https://www.businessinsider.com/angela-merkel-biography-birthday-2017-07.
Butler J. (2008). Cinsiyet Belası: Feminizm ve Kimliğin Altüst Edilmesi. İstanbul: Metis Yayınları.
Connell R.W. (1998). Toplumsal Cinsiyet ve İktidar (Çev: Soydemir C.). İstanbul: Ayrıntı Yayınları.
Connell R.W. (2006) Glass Ceiling or Gendered Institutions? Mapping the Gender Regimes of Public Sector Worksites. Public Administration Review, 66: 837-49.
Çakır S. (2014). Erkek Kulübünde Siyaset: Kadın Parlamenterlerle Sözlü Tarih. İstanbul: Versus Yayınevi.
Ceken B. & Arslan A.A. (2016). İmgelerin Göstergebilimsel Çözümlenmesi: Film Afişi Örneği. Bayburt Eğitim Fakültesi Dergisi, 11(2): 507-517.
Davidson-Schmich L.K. (2011). Gender, Intersectionality, and the Executive Branch: The Case of Angela Merkel. German Politics, 20(3): 325-341.
Eagly A.H. & Johannesen-Schmidt M.C. (2001). The Leadership Styles of Women and Men. Journal of Social Issues, 57(4): 781–797.
Enloe C. (2014). Bananas, Beaches and Bases: Making Feminist Sense of International Politics. Berkeley and Los Angeles: University of California Press.
Ferree M. M., (2006). Angela Merkel: What Does It Mean to Run as a Woman? German Politics and Society, 24(1): 93-107.
M. & Vuleta C. (Aralık 2018). Power Women 2018 Forbes Editor's Pick. Forbes. İnternet adresi: https://www.forbes.com/lists/power-women/#4c3b55a65a95.
Güneş A. (2012). Çağdaş Bir Çözümleme Yöntemi: Göstergebilim. e-journal of New World Sciences Academy, 7(2): 31-43.
Halberstam J. (1998). Female Masculinity. Durham: Duke University Press.
Hoffman J. (2001). Gender and Sovereignty: Feminism, the State and International Relations. Palgrave.
Kimball M.M. (1995). Feminist Visions of Gender Similarities and Differences. Binghamton, NY: Hawort.
Kluth A. (2017). Angela Merkel: The Body Language of Power. Handelsblatt Today, 8 Nisan, 2017. İnternet adresi: https://www.handelsblatt.com.
Kratofil C. (2017). Theresa May Commented on Her Influential Shoe Style and Twitter Wasn't Happy About It. People. İnternet adresi: https://people.com.
Kreisky E. (2014). Masculinity as an Analytical Category: Work in Progress. İçinde, Starck K. & Sauer B. (Eds.), A Man's World? Political Masculinities in Literature and Culture. Newcastle: Cambridge Scholars Publishing: 11-27.
Lupo L. (2017). From the Concrete Wall to the Glass Ceiling to the Labyrinth: Gendering Leadership for Transformative Change. UNRISD.
McLandress K. (1991). Contemporary Issues in Business Ethics and Politics. New York: The Edwin Mellen Press.
Nagel J. (1998). Masculinity and Nationalism: Gender and Sexuality in the Making of Nations. Ethnic and Racial Studies, 21(2): 242-269.
Özbay C. & Baliç İ. (2004). Erkekliğin Ev Halleri. Toplum ve Bilim, 101: 89-103.
Özgün Y. (2014). Muhafazakârlık: Patriyarkaya Her Daim Yandaş. Feminist Politika Dergisi, 22: 14-15.
Özman A. & Coşar S. (2015). Milliyetçilik ve Toplumsal Cinsiyet. İstanbul: İletişim Yay.
Pateman C. (1990). Does Sex Matter to Democracy? A Comment. Scandinavian Political Studies, 13: 57-63.
Petrikowski N.P. (2018). Angela Merkel: Chancellor of Germany. Encyclopedia Britannica. İnternet adresi: https://www.britannica.com.
Ray M. (2018). Federica Mogherini, Italian Politician. Encyclopedia Britannica. İnternet adresi: https://www.britannica.com/biography/Federica-Mogherini.
Ridley L. (8 Ekim 2015). Elle's #MoreWomen Video Shows Just How Few Women Are At The Top... İçinde, Any Industry, Huffington Post UK. İnternet adresi: https://www.huffingtonpost.co.uk.
Sancar S. (2012). Türk Modernleşmesinin Cinsiyeti: Erkekler Devlet, Kadınlar Aile Kurar. İstanbul: İletişim Yayınları.
Saussure F. (1985). Genel Dilbilim Dersleri (Çev: Berke Vardar). Ankara: Birey ve Toplum Yayınları.
Starck K. & Sauer B. (2014). A Man's World? Political Masculinities in Literature and Culture. Newcastle: Cambridge Scholar Publishing.
Sünbüloğlu N.Y. (2012) Militarist İktidarın Düğüm Noktası Olarak Erkeklik. Varlık, 1255: 14-20.
Tickner J.A. (1992) Gender in International Relations: Feminist Perspectives on Achieving Global Security. New York: Columbia University Press.
Tür Ö. & Aydın-Koyuncu Ç. (2010). Feminist Uluslararası İlişkiler Yaklaşımı: Temelleri, Gelişimi, Katkı ve Sorunları. Uluslararası İlişkiler, 7(26): 3-24.
Wallenfeldt J. (2018). Theresa May Birleşik Krallık Başbakanı. Encyclopedia Britannica.
Young O.R. (1989). The Politics of International Regime Formation: Managing Natural Resources and the Environment. International Organization, 43(3): 349–375.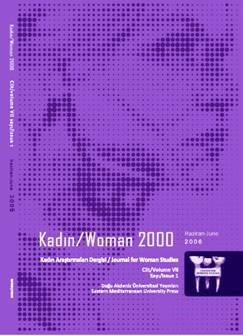 How to Cite
Balamir Coşkun, B., & Akyüz, S. (2019). Woman Leaders of the World Politics and Political Masculinities: A Semiotic Analysis. Kadın/Woman 2000, Journal for Women's Studies, 20(2), 91-110. https://doi.org/10.33831/jws.v20i2.85
Authors who publish with this journal agree to the following terms:
Authors retain copyright and grant the journal right of first publication, with the work [6 months] after publication simultaneously licensed under a Creative Commons Attribution License that allows others to share the work with an acknowledgement of the work's authorship and initial publication in this journal.
Authors are able to enter into separate, additional contractual arrangements for the non-exclusive distribution of the journal's published version of the work (e.g., post it to an institutional repository or publish it in a book), with an acknowledgement of its initial publication in this journal.
Authors are permitted and encouraged to post their work online (e.g., in institutional repositories or on their website) prior to and during the submission process, as it can lead to productive exchanges, as well as earlier and greater citation of published work (See The Effect of Open Access)