The Gender of Migration: A Study on the Syrian Migrant Women in Turkey
Keywords:
Syrian migration, migrant women, gender, feminist IR, Turkey
Abstract
Turkey hosts around 3.6 million Syrian migrants who fled Syria withthe start of thecivil war. While Syrian migrants face problems related to adjusting to a different society, their prolongedstay and uncertainty of their status makes them vulnerable to instances of xenophobia and hate crimes. Women, however, are at a double disadvantage. They have less opportunity to overcome the language barrier, get out of the domestic households, reach health services and employment opportunities, are vulnerable to instances of domestic violence, sexual abuse and exploitation. This paper aims to adopt a feminist perspective on International Relations by focusing on migration. Based on data collected through interviews with Syrian migrant women living in Kocaeli city, this study is aiming to find out how gender shapes the experiences of migrant women. The article will analyse how influential gender is in women's decisions to leave the conflict zone, to settle in a different country, and their experiences in their new social environment.
References
AFAD (Republic of Turkey Prime Ministry Disaster and Emergency Management Presidency) (2014), Syrian Guests in Turkey 2014https://www.afad.gov.tr/upload/Node/3494/xfiles/syrian-guests.pdf (Retrieved: 15 June 2018).
Boyd, M. and Grieco, E. (2003). Women and Migration: Incorporating Gender into International Migration Theory, Migration Information Source, https://www.migrationpolicy.org/article/women-and-migration-incorporating-gender-international-migration-theory (Retrieved: 1 October 2018).
Charles, L. and Denman, K. (2013). Syrian and Palestinian Syrian Refugees in Lebanon: The Plight of Women and Children.Journal of International Women's Studies, 14(5), 96-111
Enloe, C.(2000). Bananas, Beaches, and Bases: Making Feminist Sense of International Politics. Berkeley: University of California Press.
Fitzpatrick, B. (2016).Tactical Rape in War and Conflict: International Recognition and Response. Policy Press, 2016
Gerard, A. (2014).The Securitization of Migration and Refugee Women. Routledge.
Orhun, O. and Gundogar, S.S. (2015). Effects of the Syrian Refugees on Turkey. OrtadoğuStratejikAraştırmalarMerkezi, Report No: 195 (January 2015). http://www.orsam.org.tr/en/enUploads/Article/Files/201518_rapor195ing.pdf
Peterson, V. S. (1992). Security and Sovereign States: What Is at Stake in Taking Feminism Seriously? in P.V. Spike (ed.)Gendered States: Feminist (Re)Visions of International Relations Theory. Boulder, Colo.: Lynne Rienne,31–64.
Tickner, J. A.(1991) HansMorgenthau'sPrinciplesof PoliticalRealism: A Feminist Reformulation, inR.Grantand K.Newland (eds.), Gender and International Relations, Indianapolis, Open UniversityPress, 27-32
Tickner, J. A. (1992).Gender in International Relations. New York: Columbia University Press.
Women's Refugee Commission (2014). Unpacking Gender: The Humanitarian Response to the Syrian Refugee Crisis in Jordan,https://www.womensrefugeecommission.org/resources/233-gender-issues/985-unpacking- gender-the-humanitarian-response-to-the-syrian-refugee-crisis-in-jordan, (retrieved: 15 June 2018)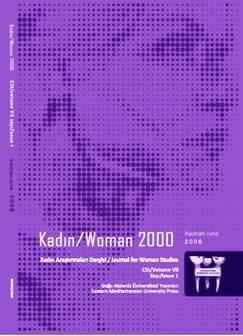 How to Cite
Gökalp Kutlu, A. (2020). The Gender of Migration: A Study on the Syrian Migrant Women in Turkey. Kadın/Woman 2000, Journal for Women's Studies, 21(1), 21-38. https://doi.org/10.33831/jws.v21i1.65
Authors who publish with this journal agree to the following terms:
Authors retain copyright and grant the journal right of first publication, with the work [6 months] after publication simultaneously licensed under a Creative Commons Attribution License that allows others to share the work with an acknowledgement of the work's authorship and initial publication in this journal.
Authors are able to enter into separate, additional contractual arrangements for the non-exclusive distribution of the journal's published version of the work (e.g., post it to an institutional repository or publish it in a book), with an acknowledgement of its initial publication in this journal.
Authors are permitted and encouraged to post their work online (e.g., in institutional repositories or on their website) prior to and during the submission process, as it can lead to productive exchanges, as well as earlier and greater citation of published work (See The Effect of Open Access)