The Role of the Creative Environment Concept in Waterfront Development
The Case of Limassol Promenade (Molos)
Keywords:
Limassol Promenade, Cyprus, Waterfronts, Urban Waterfront Development, Creative Environment
Abstract
The island of Cyprus, which has a rich mixed-use public waterfront environment at the heart of the Eastern Mediterranean, started to get acquired with the contemporary urban regeneration strategies. Limassol Promenade (molos) is one of the significant waterfront deals with contemporary regeneration applications.
The main aim of this paper is to determine the creative city concept on waterfront regeneration approaches and evaluate the role of the concept in the Limassol case. Therefore, Limassol promenade (molos) is selected as a case study, which reflects the general urban characteristics of creative waterfront regeneration. Contemporary urban regeneration approaches can be observed clearly on the promenade (molos). Thus, the waterfront is analyzed according to the physical, and social conditions by considering the creative waterfront dimensions. In this study, a literature review and physical analysis method are used. Evaluation of promenade (molos) is done by considering the waterfront regeneration dimensions, which are influenced by creative city concepts; physical, functional, economic, social, cultural, and political scopes.
It is achieved from the evaluation of physical, functional, economic, social, cultural, and political scopes that Limassol promenade (molos) has some strengths with attracts the visitors and with providing good economic incomes, employment opportunities, and inspirational/motivating areas for the creative class. On the other hand, the waterfront has some weaknesses in terms of the technological point of view. The contemporary achievements can be adapted to the waterfront to improve innovative, informative, and attractive points of view.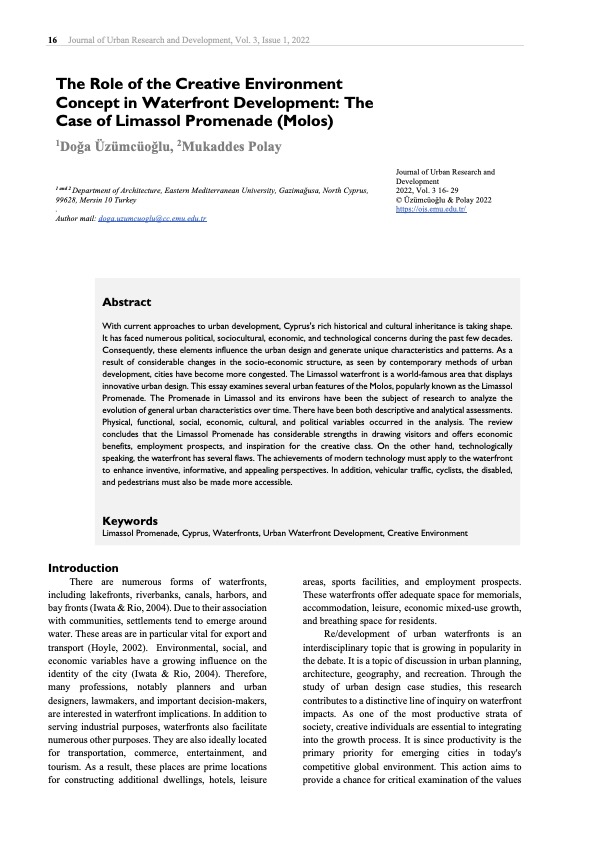 Downloads
How to Cite
Üzümcüoğlu, D. (2022). The Role of the Creative Environment Concept in Waterfront Development: The Case of Limassol Promenade (Molos). Journal of Urban Research and Development, 3(01), 16–29. Retrieved from https://ojs.emu.edu.tr/index.php/jurd/article/view/286