Smart Cities Initiatives in Lagos, Nigeria:
Are there Lessons to Learn from the Leading Smart Cities?
Keywords:
Governance, Information and Communication Technology, Infrastructure, Planning, Smart Cities
Abstract
Cities' roles as the economic hub and development drivers cannot be overemphasized. In an attempt to perform these roles, Lagos city grapples with various challenges despite its launch of smart city initiatives. This paper asks a pertinent question about what can Lagos learn from the leading smart cities? Consequently, this paper explores smart city initiatives in Lagos, as well as Vancouver and Singapore with proven achievements before lessons learned, are discussed. A descriptive qualitative research design is adopted and data were obtained from secondary sources comprising journal articles, government publications, research institution reports, books published by international organisations, cities' websites, and newspaper publications. An inductive exploration of the data was conducted for analysis. Findings revealed that indicators comprising citizens' engagement, partnership, and political will, as priority areas that Lagos must give consideration and improve upon. The paper concludes with a synopsis and suggests the way forward.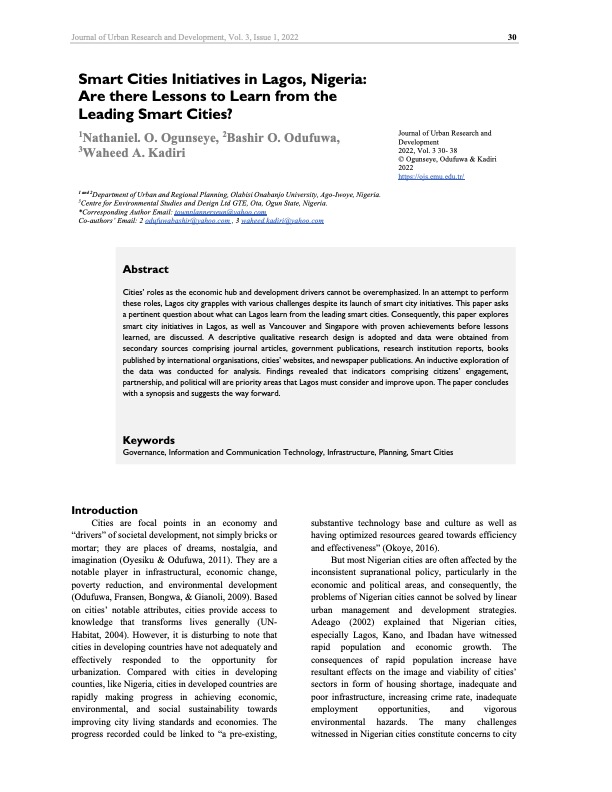 Downloads
How to Cite
Ogunseye, N. O., Odufuwa, B. O., & Kadiri, W. A. (2022). Smart Cities Initiatives in Lagos, Nigeria: : Are there Lessons to Learn from the Leading Smart Cities?. Journal of Urban Research and Development, 3(01), 30–38. Retrieved from https://ojs.emu.edu.tr/index.php/jurd/article/view/366