As a Zoning Criterion in the City, Morality and an Unrevealed Truth in Northern Cyprus
Prostution in Entertainment Venues
Keywords:
Zoning , Morality , Immorality, Prostitution, Segregation
Abstract
Here in this study, I will try to briefly evaluate the theme of gender and space relationship within a certain framework specific to Northern Cyprus.
Normally, individuals who live and work in cities, are spread among different zones and there are varied factors which effect this process of zoning. I will try to explore the determination of morality upon this zoning process for Northern Cyprus example regarding the prostitution practices. Moreover, it is obvious that this point of view – the morality centred one – creates a kind of isolation that people must fight with whenever they do not live in accordance with general norms.
This kind of isolation is a spatial isolation – by the means of place – and social isolation – by the means of people's relationships with other people - from the society.
Regardless of whether the acts related to prostitution are considered as a crime by law or not in our country, this issue causes the same results by the means of facts.
I strongly believe that addressing this issue will also create a space to us for discussion. Starting with this, we will have an opportunity to stop human rights violations caused by prostitution businesses in North Cyprus. Progressing towards solving a problem requires accepting the existence of it and its consequences in the first place.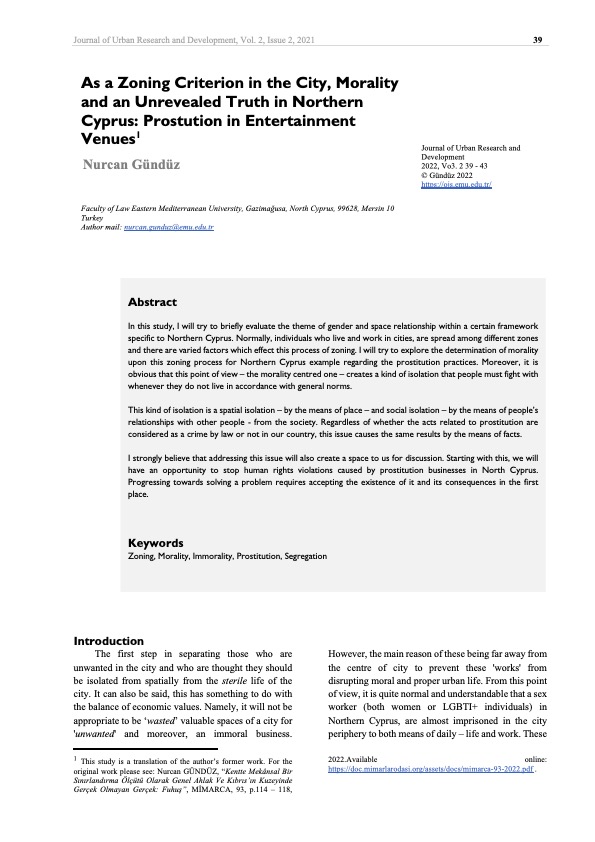 Downloads
How to Cite
Gunduz, N. (2022). As a Zoning Criterion in the City, Morality and an Unrevealed Truth in Northern Cyprus: Prostution in Entertainment Venues. Journal of Urban Research and Development, 3(01), 39–43. Retrieved from https://ojs.emu.edu.tr/index.php/jurd/article/view/427