Nicosia and Its Division
A Character- Generating Role For the City
Keywords:
Divided City, Nicosia, Urban Space, User Perception, User Behaviour
Abstract
The city of Nicosia, the last divided capital in the world, is a crucial case study to understand how a division influences a city pattern and character. The aim of this paper is to catch the perceptive feelings, in stressing the symbolic element of the division and the Buffer Zone; to interrogate and assess conservation issues and symbolical values of this area of the city; to recognise the division as a generator of character in the city recognisability; to investigates how a particular space, the one of a divided city, can influence the local population's perception and behaviour in the urban space.
Asking what the division bring, or which social and spatial phenomena occurred in Nicosia from the division, spatial behaviour of the local population will be assessed through direct interviews with local population, local stakeholders, and on-site studies. Investigating the perception of the division and the image of the city, it emerges how the Buffer Zone and the division is rooted in the mind of the interviewed as a place for memory, or better, as a generator of the psychological structure of self-identification in the city, as such, as a generator of the city character.
Thus, the city of Nicosia is seen as a palimpsest, representing a potentially endless circle with continuous and constant modification, either in an additional way – superimposition, extension - or in a subtractive way – demolition, removal, or dismantling. This subtraction can be intentional, but it can also be disruptive and unplanned. The division of Nicosia brought an extra element to the city and modified its character ex-post, meaning that the event's modifications – i.e., the division - assumes a memorial, historical and symbolical value, in function of the perturbation, thus shaping how the city is now perceived and giving the division a character- generator role.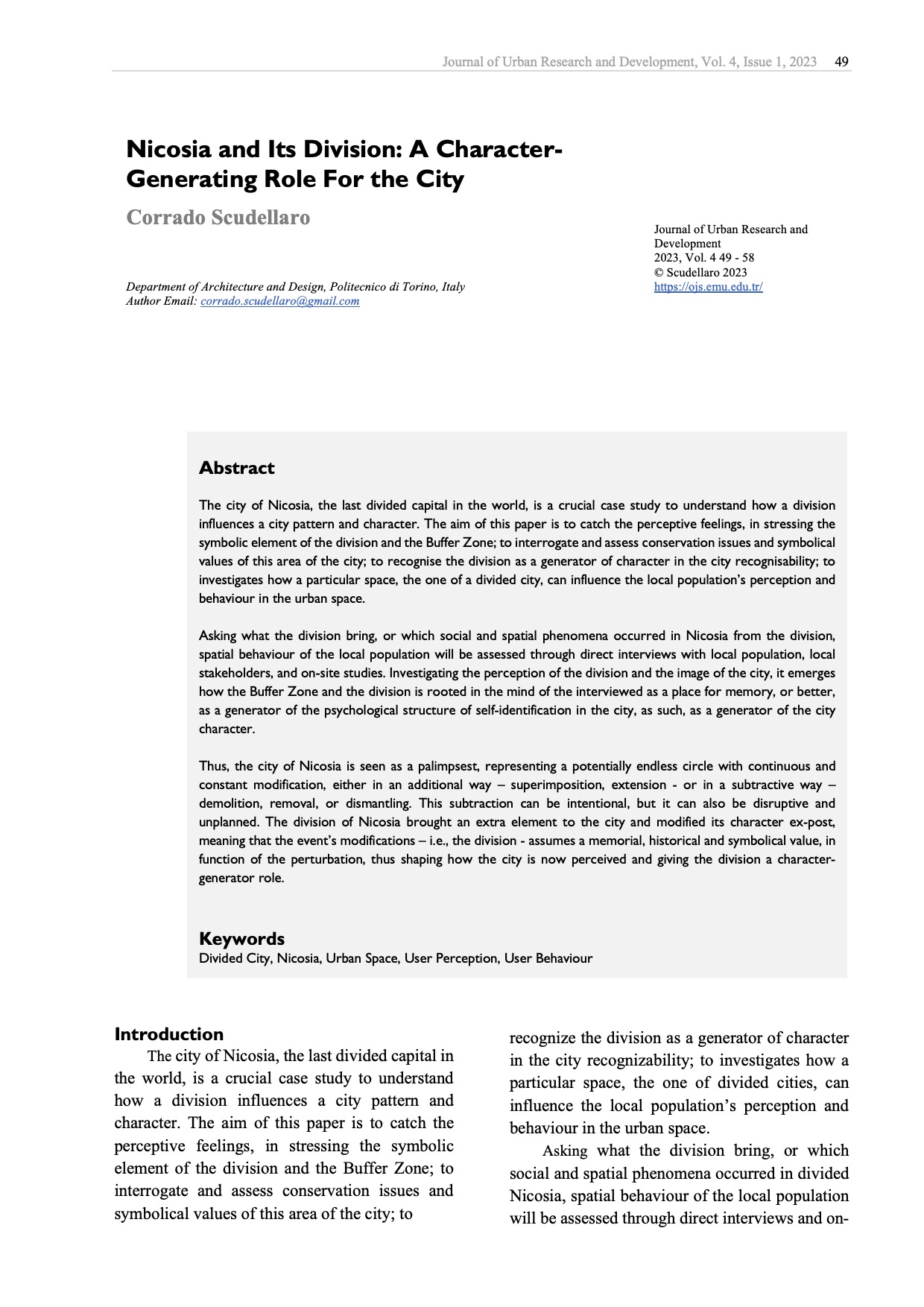 Downloads
How to Cite
Scudellaro, C. (2023). Nicosia and Its Division: A Character- Generating Role For the City. Journal of Urban Research and Development, 4(01), 49–58. Retrieved from https://ojs.emu.edu.tr/index.php/jurd/article/view/449